If you want to earn some money online. It is very easy at this time. A lot of webmasters earn money without having to go to work every day. You can earn money too. Please follow following steps and you can earn money online.
1. Find your Goal and define your market:
what is your familiar field. Attracting advertisers in your field must be your primary goal, as that is what will make your financial aspirations a success. To generate the most traffic, and thus the most revenue, be selective in your target market. While every demographic has its strong points and weak points, studies have shown that younger people are generally more optimistic and more adventurous—and thus likely to click on an advertisement more readily.
2. Choose a Name (Domain Name for your website):
Choose your domain name very smartly, Google loves short and to the point domain name. Try to buy always .com domain or if you like to go for country specific such as for USA then by .com.us or .us ? Best part is keep your main primary keyword in domain name such as if you selling honey then buy a domain name something like buyhoney.com, orderhoney.com, buyhoneyonline.com, orderhoneyonline.com, cheaphoney.com, affordablehoney.com, honey.com or honeyjar.com purehoney.com etc?
If you want to SEO jobs, you need register a lot of domain names such buycheaphonyonline.com, buyhoney.com, buysmarthoney.com, affordablehoney.com. You need these domain names to promote your money website buhoney.com. We will talk about Domain and SEO techniques in the future articles.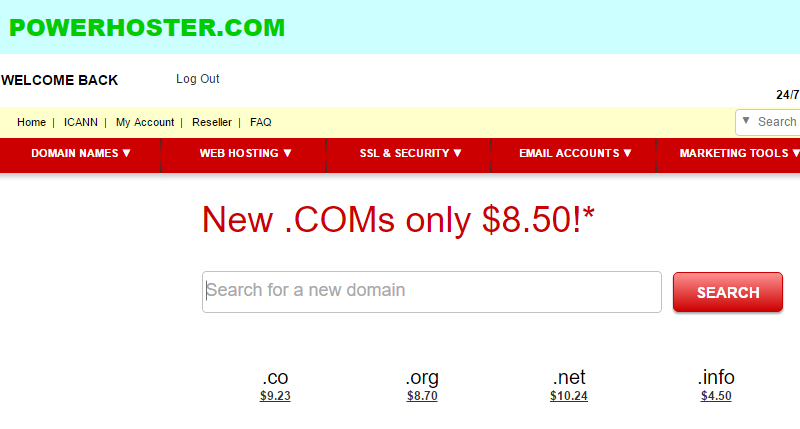 Please chose domain powerhoster as your domain register. We register the cheapest domains in the world, and we are the biggest domain register in the world.
3. Chose a Cheap but Reliable Hosting.

In simple web hosting is something like you want to put your website pages on. It?s the place where you keep your website pages. Today you will find lot of web hosting providers but here I am mentioning the Unlimited ones i.e. you can keep unlimited files, videos, audios (about your site) and you don?t have to pay anything extra. Following are the top web hosting providers offering you 500 USD free to kick start your online business
4. Website Design
We recommend wordpress as your content template. Almost 80% of websites are using wordpress. You can easily change your style, you can host a large amount of content, and you have a lot of plugins to secure your website. If you donot know wordpress, you can search google about it. The best thing is that we provide wordpress web hosting

5. SEO things
SEO
Just in SEO you need to keep an eye on 2 main things
1. Primary keyword
You can download google keyword planner to plan your keyword. The best thing is that your website niche can include your keyword.
2. Backlinks
The most effective backlinks are from the same niche websites. A link out from a website will downgrade the rank of one website, so no webmasters want to link to you freely. The best ways to SEO your websites is to build up a lot of SEO wordpress websites yourself. All the SEO wordpress websites link to your money website and make your money website rank higher.
Besides links from your own websites, following backlinks can also be considered:
Blog Commenting ? Put your comment on other websites
Forum Profiles ? Create profiles related to your website niche.
Link Exchange ? Exchange website links with other websites (similar to your niche)
Web Directories ? Put your website links on web directories.
Press Release ? Write press release about your website and launch it through press release websites (some of them are free ? some are paid)
Guest Blogging ? Do guest blogging and put your website link.
Article Directories ? Writing unique articles yourself or hiring an article writer, and then submitting it to high PR article directories; it will take few days to approve.
Yahoo Answers ? Write something on yahoo answers and put your website link
Social Media ? Social Media like youtube, Twitter, Facebook, Digg, etc, submit your websites there.
Web 2.0 Profiles ? Creating profiles on Web 2.0 sites is very powerful indeed, like Squidoo and then writing an article and linking back to your site,
Make Money from your website
Google Adsense ? Put ads by Google on your website.
Selling Banner Space ? Sell some small space on your website to put other websites banners and take money form them
Selling Text Links ? Once your website has a value i.e like lot of visitors come on your website then try to sell text links on your Page Rank blog
Affiliate Marketing ? Clickbank, linkshare, sellhealth, moreniche, amazon, or Commission Junction is a website where you can find many stuff to sell, and you will get a percentage for each sale.
Tracking who is coming to your website
Google Analytics is the best tool to track your website traffic. Just copy the code and put it on your website to understand your website health
Hope you enjoyed the article, and good luck to your success!