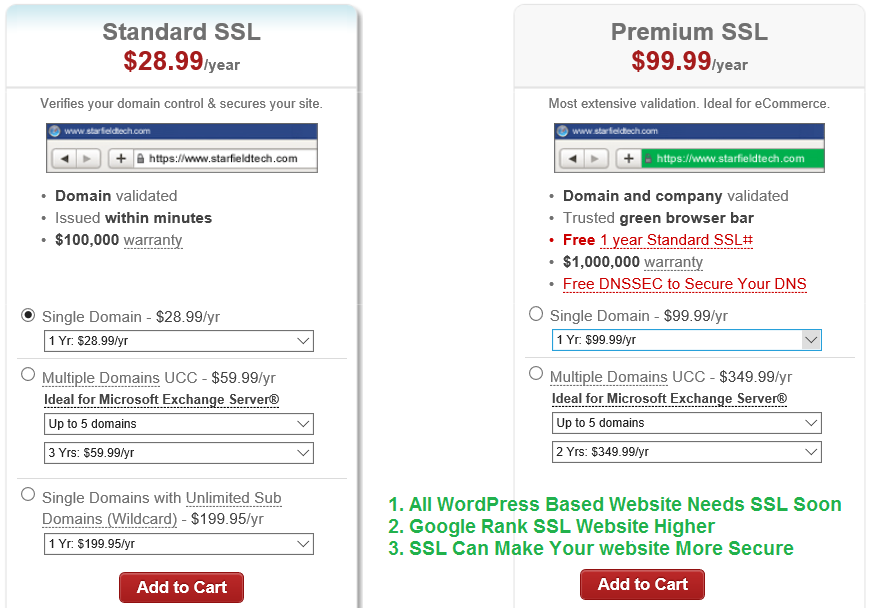 SSL stands for Secure Socket Layer. It might sound complex, but it's really not. SSL Certificates validate your website's identity, and encrypt the information visitors send to, or receive from, your site. This keeps thieves from spying on any exchange between you and your shoppers. When you have an SSL Certificate protecting your website, your customers can rest assured that the information they enter on any secured page is private and can't be viewed by cyber crooks. PowerHoster makes it easy to install your certificate and secure your server.
What makes our SSLs better?
World's strongest encryption – Our SSLs use SHA-2 and 2048-bit encryption to stop hackers in their tracks. That's the strongest encryption on the market today. It's virtually uncrackable.
One-click set up – A single click is all it takes to install your SSL if you have PowerHoster hosting. Website hosted elsewhere? We'll have you on your way in minutes. No technical skills needed.
Better search rankings – Google favors HTTPS-encrypted websites and will push them higher in search results. So a GoDaddy SSL not only protects your customers but helps you find more of them.
WordPress Recommend it –
All WordPress website will be swift to SSL soon. Wordpress will not support non SSL plugins and themes soon.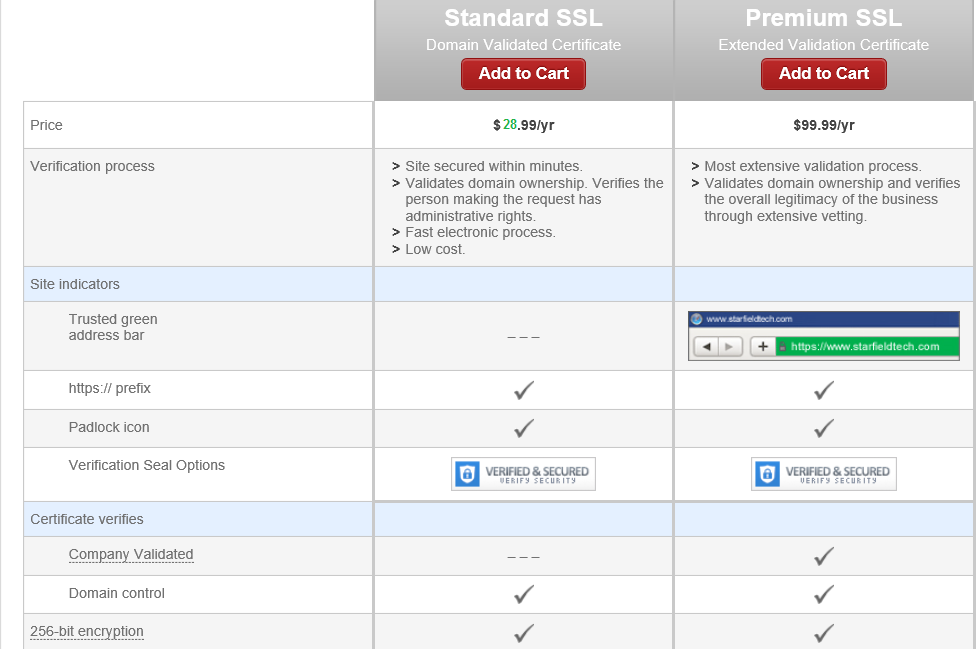 All SSL-protected sites display the https:// prefix in the URL address bar. Sites protected with a Premium EV SSL Certificate display a green browser bar to quickly assure visitors that the organization's legal and physical existence was verified according to strict industry standards.
PowerHoster's Premium EV SSL Certificate involves the most extensive vetting process. We verify the control of the domain and legitimacy of your company by validating the legal name, address, phone number and other business information. The process takes about 30 days, but we've got you covered during that time. EV SSL Certs come with a free Standard SSL to use during the vetting process, so you can keep your transactions secure while you wait.
The Benefits of using SSL Certificates
Safely accept credit cards on your website – Protect both customer and internal data. If you want to sell to a much larger audience, you need to give customers the payment options they prefer — AND you need an SSL to keep customers clicking through to checkout.
Increase customer confidence – Most people look for the https:// prefix in their browser bar before submitting personal information like their name, credit card number and address to a website. An SSL is the only way to get this.
Protect sensitive information – SSL Certificates protect your customers' sensitive information by encrypting the data they send to you, then decrypting it once you've received it.
Build customer trust and improve conversions – When your customers find your websites are safe, they will be come back to order again as a repeated customers and new customers.
Encrypt browser-to-server and server-to-server communication – Your browser to server and server to browser communication will be encrypted. It will prevent some hackers to hack your websites and steal your website information.
Increase security of your mobile and cloud apps – When your visitors are viewing your website by mobile, their mobile are safe and not easy to be hackered.
How SSL Certificates Work
A browser or server attempts to connect to a Website, a.k.a. Web server, secured with SSL. The browser/server requests that the Web server identify itself.
The Web server sends the browser/server a copy of its SSL certificate.
The browser/server checks to see whether or not it trusts the SSL certificate. If so, it sends a message to the Web server.
The Web server sends back a digitally signed acknowledgement to start an SSL encrypted session.
Once the connection is complete, a padlock icon and HTTPS prefix appear in the visitor's browser bar to show them they're safe to share personal details. If you have a high-assurance EV Certificate, your visitor's status bar will also turn green.

How many unique domains do you want to secure with HTTPS?

Do all of the sites have fully qualified domain names, or do you need to add a few subdomains on the fly?

Single-domain SSLs cover one domain or subdomain. For example, you can secure www.coolexample.com. You can purchase single-domain SSL's as Standard, Deluxe High Assurance (OV) certificates, or EV certificates.
Wildcard SSLs cover multiple subdomains. For example, you can secure *.coolexample.com, which would cover shop.coolexample.com, www.coolexample.com, and any other subdomains. You can purchase Wildcard SSLs as Standard or OV certificates.
Multiple Domain (UCC) SSLs can cover multiple subdomains, unique domain names, and websites. For example, you can secure www.coolexample.com, mail.coolexample.com, and www.awesomeexample.com. You can purchase UCC SSL's as standard or EV certificates.Encrypted data is shared between the browser/server and the Web server. All information passing to and from your website is now scrambled by 2048-bit encryption that's virtually unbreakable by hackers.
EV UCC SSLs represent all secondary domains with the primary business name, so all sites should be related. A UCC site seal displays only the primary domain name as "Issued To," and all secondary websites are listed in the certificate details.

Why you should buy SSL from powerhoster ?

When your SSL certificate is issued, we send an email to let you know. What happens next depends on where your site is hosted and the options you chose when you bought the certificate. If you chose web hosting, Website Builder or Online Store when you ordered your cert, we take care of everything for you.

For one thing, our SSL certs cover unlimited secure servers. They support up to 256-bit encryption and they're recognized by all of the major desktop and mobile browsers on the market. Plus, they're backed by the industry's best 24/7 phone service and support. There's absolutely no technical difference between PowerHoster SSL Certificates and those offered by other companies – they simply cost less. Is it any wonder we're the largest provider of net new SSL Certificates in the world?
We also provide Premium SSL certificate, SiteLock Malware Spam, and Code and Driver Signing Certificates. Search Engines and Online visitors are getting smart about online security. They prefer to see the SiteLock icon and "https" prefix in the address bar of their browser before submitting personal information online. If your Web site doesn't have an SSL Certificate, visitors may leave before making a purchase, creating an account or even signing up for a newsletter. But you can change all that with a simple SSL certificate from PowerHoster.