Search for your .agency domain name
.agency Domain Name Only $17.99
.AGENCY Domain Names For Business
The possibilities are endless when it comes to the .AGENCY domain extension. Because such a wide range of businesses rely on the word "agency" to promote themselves, this domain has appeal that spans countless fields and . Whatever field you work in, a .AGENCY web address perfectly communicates your organization's proficiency, and can be a boon when it comes to attracting new customers.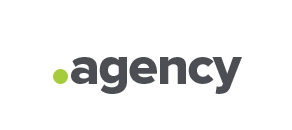 This domain brings to mind assembly lines and sterile labs, which makes it perfect for manufacturers, technology companies and any business with "Industries" in its name.
Why .AGENCY ?
"Agency" is a complex term that encompasses a multitude of definitions, from having the self-agency to change habits and create healthy lifestyles to empowering others and their agency to succeed. .AGENCY, is an open registry, meaning any person, group, or company can register a .AGENCY domain name, so the extension is up for interpretation and is open to use by insurance, talent, realty, or acting agencies, or by anyone who advocates for others.
Represent Your Clients with .AGENCY Domains
It goes without saying that competition can be fierce among talent agencies, and step one of building a strong client base starts by standing out from the pack. That's why a clear, concise .AGENCY domain extension can have a huge impact on your bottom line. .AGENCY web addresses can help you stand out to the clients you're seeking — whether they're models or web designers. That means no more scratching your head trying to come up with a .COM domain name that's too long or too similar to your competitors. This domain extension works great for so many businesses from real estate brokerages to talent agencies. No matter what type of company you run, .AGENCY has the potential to be a great fit for you and your business goals.
Related Terms