.COM Domain Name Only $8.99
A domain name is an identification string that defines a realm of administrative autonomy, authority or control within the Internet. Domain names are formed by the rules and procedures of the Domain Name System (DNS). Any name registered in the DNS is a domain name. Domain names are used in various networking contexts and application-specific naming and addressing purposes.
You probably have hundreds of domain names stored in your head, such as:
powerhoster.com — our favorite domain name
google.com — one of the most used domain names in the world
mit.edu — a popular EDU name
bbc.co.uk — a three-part domain name using the country code UK
You'll recognize domain names as having strings of characters separated by dots (periods). The last word in a domain name represents a top-level domain. These top-level domains are controlled by the IANA in what's called the Root Zone Database, which we'll examine more closely later.
In general, a domain name represents an Internet Protocol (IP) resource, such as a personal computer used to access the Internet, a server computer hosting a web site, or the web site itself or any other service communicated via the Internet. In 2015, 294 million domain names had been registered.
Domain names are used to identify one or more IP addresses. For example, the domain name microsoft.com represents about a dozen IP addresses. Domain names are used in URLs to identify particular Web pages. For example, in the URL http://www.powerhoster.com/index.html, the domain name is powerhoster.com.
Domain names are used in various networking contexts and application-specific naming and addressing purposes. In general, a domain name represents an Internet Protocol (IP) resource, such as a personal computer used to access the Internet, a server computer hosting a web site, or the web site itself or any other service communicated via the Internet. In 2015, 294 million domain names had been registered.
Every domain name has a suffix that indicates which top level domain (TLD) it belongs to. There are only a limited number of such domains. For example:
Because the Internet is based on IP addresses, not domain names, every Web server requires a Domain Name System (DNS) server to translate domain names into IP addresses.
15 Tips on Choosing the Perfect Domain Name
If the entity you are creating the website for is already up and running, or at least past the conception stage, then choosing a domain name should be easy – simply use its name as the address of your website.
However, sometimes that phrase or term might not be available to register as someone else has gotten there first. If that is the case, then you have three main options on how to find the next best domain for your project:
Choose a totally different name for your website address
Add some other words to the name for the use in the website address
Select a different top level domain (TLD)
This is a list of some of the highest prices paid for domain names. The list is limited to domains that sold for $3 million or more. If you register any one of following domain name when it is available to register, you are already a millionaire now.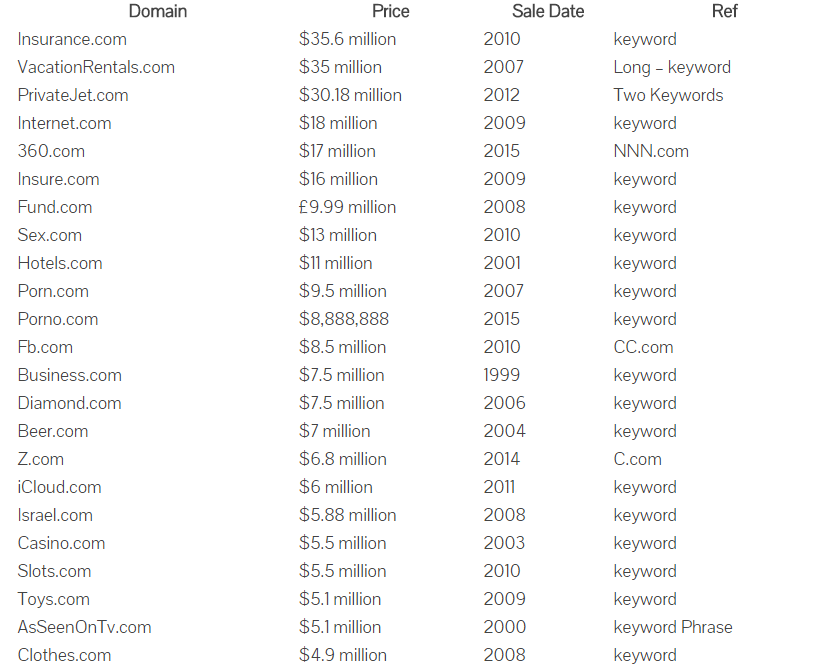 1. Easy to type and remember
If you do not want to rely on SEO and only want your customers to remember you, or you want new customers remember you faster, you can make this chose. This kind of website can be ranked very well if a lot of customers or visitors link to you or you have very good content. Avoid using abbreviations or slang just to make it catchy, sometimes you might lose the plot altogether in your enthusiasm and your business will find itself going downwards. Finding a domain name that's easy to type is critical to online success. If you use slang (u instead of you) or words with multiple spellings (express vs. xpress), it might be harder for customers to find your site.
There are millions of registered domain names, so having a domain that's catchy and memorable is essential. Once you've come up with a name, share it with close friends to make sure it sounds appealing and makes sense to others.
2. Short and simple
If your domain is long, when your customers type your domain name wrongly ( it happens frequently), they will be redirected to your competitor websites. So make your domain name as simple as possible. If your domain name is long and complex, you risk customers mistyping or misspelling it. Short and simple is the way to go.
3. Use keywords or phrases
Almost all cc.com, ccc.com, nn.com, nnn.com, nnnn.com are sold out these days. So you have to chose good keyword phrase domain name. You should be familiar with the keywords before you register it. Long word keywords phrase is also good choice for good domain name. Try using keywords that describe your business and the services you offer. For example, if you're a grass replacement business, you may want to register grassclean.com or Grasscut.com.
1. KeyWords that describe a product or service, especially new and emerging products, can be a great investment for newbie. If a new product or service comes up, you can register a lot of this kind of keyword phrase domains. for example, When cloud concept comes up, all people can register icloud, ecloud, cheapcloud and so on. But it's very important to avoid any copyright or trademark issues that could result in domain forfeiture.
2. KeyWords that describe a Business Name – Generic business names, such as dentist, doctor, carpenter, scientists, Teacher, or chiropractor, can be great investments when combined with geographic or professional names such as SeattleDentist.com or EnglishTeacher.com.
3. KeyWords that describe a Local Geographic Position, Cities, or Countries, even associates – Names of cities or countries, including up-and-coming locations, can be great investments over time that can be sold to web developers looking to build out community portals or other businesses centered on those communities.
4. Company or Organization Name – You can register them if no trademark problems.
5. Timely Names – Timely names can be great investments when combined with events occurring in that period, such as 2022Olympic.com, or 2022worldcup.com
4. Target your area
If your business is local, consider including your city or state in your domain name to make it easy for local customers to find and remember. Example: vancouvergrassclean.com, or vancouverwebdesign.com
5. Choose a more descriptive domain name
The first option might not sound that appealing. However, taking this approach doesn't mean rebranding your business. You could simply choose a more descriptive domain name for your website, such as plumbingiseasy.com rather than the brand name of the plumbing business you have. Register antiplaquefluoridetoothpaste.com rather than your tooth paste company name. But if you want your offline customers know your company name, you also need register a yourBusinessnamefortoothpaste.com domain name, and make an alias to antiplaquefluoridetoothpaste.com
6. Must be SEO understanding
You should know the keyword in your business. Google keyword planner is a very good keyword choice tools. You can export google keyword planner into excel files and find which keyword is frequently searched, register it. No matter popular domains or not. A long keyword phrase domain name is very good for google to find it. One of our customer register a domain name AP24-AntiPlaqueFluorideToothPaste.com. is very good for customers know what the domain is about and how to buy the product they want.
7. No trademarked domain names
Make sure the name you've selected isn't trademarked, copyrighted or being used by another company. It could result in a huge legal mess that could cost you a fortune, as well as your domain! But normally the domain register just suspended your domain names when a trademarked domain is registered.
8. Register number domains for Chinese based customers
if your website visitors are mostly for the Chinese, you can register number based domain names. Chinese pronounces number very simple and only one vowel in each number so they have very good memory for number(N). NN.com, NNN.com, NNNN.com, NNNNN.com is very easily for the Chinese to remember. That is why you can sell your NNNN.com domain at higher prices than CCCC.com domain name.
9. Which domain extensions to use ?
If you want to chose domain extension, I suggest you chose .com. If your customers are Canadian based, you can chose .ca. Normally .com is the best choice. If you register a good domain name mydomainname.net, and make it very popular, you are actually promoting mydomainname.com. So I suggest all register .com domain name. But if you just want to make a SEO to direct all traffic to your .com domain name, you can do any choice. Do not put many times on promoting your non .com domain name.
A bevy of new top-level domains — like .photography, .quebec and .guru — offer a great opportunity to register short and highly relevant names. And here are some other top extensions and how they're often used:
.ca : the country code domain for Canadian websites.
.info : informational sites.
.net : technical, Internet infrastructure sites.
.org : non-commercial organizations and nonprofits.
.biz : business or commercial use, like e-commerce sites.
.me : blogs, resumes or personal sites.
Pro tip: You don't need to build a website for every domain. Just forward any additional domains to your primary website.
10. How many domain names should I register ?
If you are not a professional webmaster, and only want to let your customers know your business by business card or offline advertising, one .com domain name is good enough for you.
If you are running a big company and want to protect your brand, you can register all related domain name. For example, your company name is best shop, you can register bestshop.com, bestshop.net, bestshop.org, sometimes even register all extensions of bestshop.
If you are a professional webmaster and want to do online business, you should already know how many domain to register. Normally doing SEO jobs need as many domains as you can in different servers.
Some of our SEO customers registered more than two hundred domains and hosted in different servers to make their money websites rank very high.
11. Make your Domain Name easy to pronounce and spell
You should be able to easily share your domain name when speaking as well as writing. You never know when you'll be asked to share your domain name in person. If you're planning to use your domain name to create a professional business email address, then it definitely should be easy to understand and spell for any listener.
12. Avoid Hyphens in domain name
Never create a domain name with hyphens. Hyphens can be a sign of spam domains which you do not want to be associated with. Hyphenated domains are also prone to typos. If you choose a domain name with hyphens because the domain you want is already taken, then your users will likely end up at your competitor's site if they forget to type in the hyphen.Numbers and hyphens are often misunderstood — people who hear your website address don't know if you're using a numeral (5) or it's spelled out (five) or they misplace or forget the dash. If you need these in your domain, register the different variations to be safe.
13. Avoid double letters
It's a good idea to avoid domains with doubled letters, because it increases your chances of losing traffic to typos. For example, a domain like Presssetup.com will be more prone to typos, and result in lost traffic. Avoiding doubled letters will also make your domain easy to type and more brandable.
14. Act fast
Domain names sell quickly. Thankfully, they're also inexpensive, so register your favorite domain names as soon as possible. If you're having trouble finding an available name, domain registrars like PowerHoster will suggest alternate names during your domain search to help you find the perfect domain name.
15. Where to register your domain ?
We are the cheapest domain register, and we can register hundreds of TLD domains for you. You can try our domain registration service.

Any additional tips for choosing my domain name?
There are a few things that can help you choose your domain name:
#1 Is it brandable? For example, if you make a site about poetry then best-poetry-website.net is not a good choice: poetryacademy.com or poetryfall.com is much better.
#2 Is it memorable? Short, punchy and clear domain names are much easier to remember. If your domain name is too fuzzy, too long or spelled in a strange way, visitors may forget it.
#3 Is it catchy? You want a domain name that rolls off the tongue, describes what you (or your business) does and sticks in the head. Coming up with a cool name can be a bit tough since there are approximately 150 million active domain names in the world right now – but don't give up.
There's one rule that always applies to domain names: If you like it, go for it.