Search for your domain name
.COM Domain Name Only $11.99
We register more than 600 TLDs, are the cheapest domain register. .com $11.99. All the domains we can register for you.
Domain Pricing Per Year
Popular
1 yr
Transfer
Europe
1 yr
Asia
1 yr
.com*

$11.99

$11.99

.bz

$12.99

.in

$8.99

.co*

$38.99

$38.99
.eu
$19.99
co.in
$8.99
.info*

$20.99

$20.99
.de
$17.99
.net.in
$8.99
.net*
$12.99
$12.99
.es
$14.99
.org.in
$8.99
.org*

$13.99

$13.49

.it

$14.99

.jp

$99.99

.ca
$12.99
$12.99
.fr
$19.99
.tw
$34.99
.me
$24.99
$24.99
.nl
$14.99
.tk
$9.99
.biz*

$18.99

$18.99
.be
$17.49
.nu
$14.99
.mobi*

$33.99

$33.99
.co.uk
$9.99
.fm
$69.99
.us

$12.99

$12.99

.me.uk

$9.99

.co.nz
$69.99
.cc
$11.99
$11.99
.org.uk
$9.99
.tc
$34.95
.ws
$37.99
$37.99
.se
$26.99
.ms
$34.95
.asia*
$19.99
$19.99
.mx
$34.99
.vegas
$69.99
.tv*
$39.99
$34.99
.gs
$34.99
.io
$59.99
.xxx
$89.99
$89.99
.xyz
$14.99
.online
$49.99
.club
$14.99
$14.99
.today
$24.99
.solutions
$24.99
.life
$34.99
$34.99
.company
$9.99
.rock
$14.99
.la
$39.99
$39.99
.guru
$39.99
.directory
$24.99
.news
$29.99
$29.99
.cloud
$14.99
.photography
$24.99
.tips
$24.99
$24.99
.world
$39.99
.website
$29.99
.space
$11.99
$11.99
.email
$24.99
.store
$79.99
The Cheapest cPanel Hosting and Linux Hosting
We also have a starter cpanel web hosting plan for beginner website. 1 Website, 30GB Storage, Unlimited Bandwidth only $2.99/mo.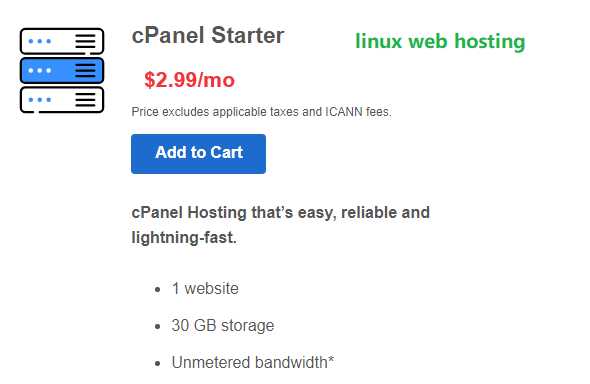 You can click Start cPanel Hosting Plan
Hosting Plan

Economy
Deluxe
Premium

Space

100GB

Unlimited

Unlimited

Bandwidth

Unlimited

Unlimited

Unlimited

Emails

100

500

1000

Databases

10

25

Unlimited

Websites

Unlimited

Unlimited

Unlimited

Subdomains

25

Unlimited

Unlimited

Aliases

Unlimited

Unlimited

Unlimited

Control Panel

Cpanel/Plesk

Cpanel/Plesk

Cpanel/Plesk

Cloud Server

SSH

24/7 support

FTPs

Free SSL (w IP)

 
 

FREE Premium DNS

 
 

Language Support


SSI, ASP, ASP.NET v4.0, ASP.NET AJAX, MVC3, Silverlight | Custom PHP.ini, Perl w/FASTCGI, Python CGI, Ruby CGI, Ruby on Rails w/FASTCGI

Month Fee

$7.99

$10.99

$16.99

 
The Cheapest Domain Name Register
We are the cheapest domain name register. You can register your .com domain name at only $11.99/yr here in powerhoster domain. We have been online since 2001, and we are among the oldest domain name register and domain hosting and web hosting providers. At Powerhoster.com – We provide Cheap Domain Registration, and Cheap Domain Hosting Services. We develop, run, maintain and support our Linux and Windows domain hosting plans in our own facilities, 24/7.  
Our web hosting plans are the cheapest, our management team is one of the most professional teams and our support teams are the most effective. We have all the features you can imagine and need – Cpanel Web Hosting, Plesk Hosting, Managed WordPress Hosting, WordPress, Website Builder, Quick Shopping Cart, SSL, Email, Database and Blogging, just to name a few.
No other web hosting service can match the width and depth of our feature set, which is one of the reasons why we are such a prominent player in the industry. We provide the cheapest Cloud Web Hosting, the cheapest Linux Cpanel web hosting, Unlimited Window Plesk hosting and the cheapest Domain Registration service.
Cheap Domain Name Registration
A good domain register can give you a good domain manager control panel, can provide DNS freely. We can provide you default DNS. The default DNS includes both Park DNS and Hosting DNS, you can also assign your third Party DNS. It is very easy to change. When you set your DNS to our default DNS, you can manage your DNS and set alias, or add an A record very easily to other IP address. You can also make a domain forwarding very easily.
You can also transfer to another account of powerhoster; or transfer away from powerhoster account very easily. You can get your authentication by just a link clicking.You can lock your domain, auto-renew your domain or manually renew your domain, and privacy protect your domain or not protecting your domain by just a link clicking. Best of all, you can get all this features by just a cheap domain buying. We can also set your free email accounts if you are registering your domains with us.
Buy the Cheapest cPanel Web Hosting 
Take charge with industry-standard cPanel or Parallels® Plesk control panels, free 24/7 phone or online support and 99.9% uptime* and money-back guarantees*. With our award-winning data center, you'll know your site is always up and running.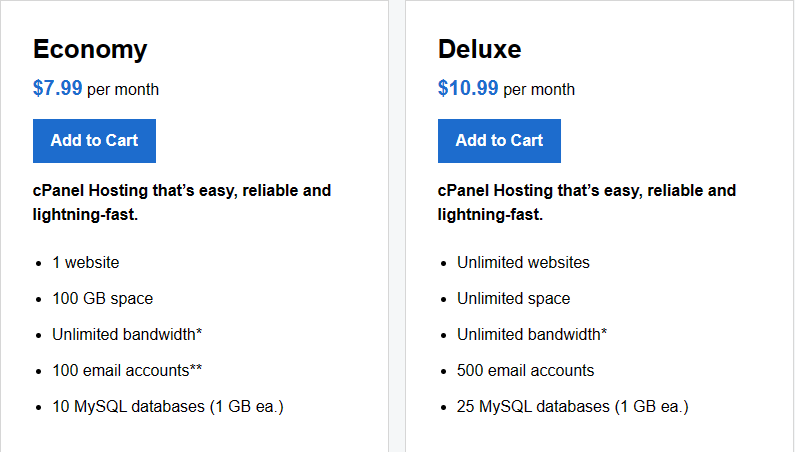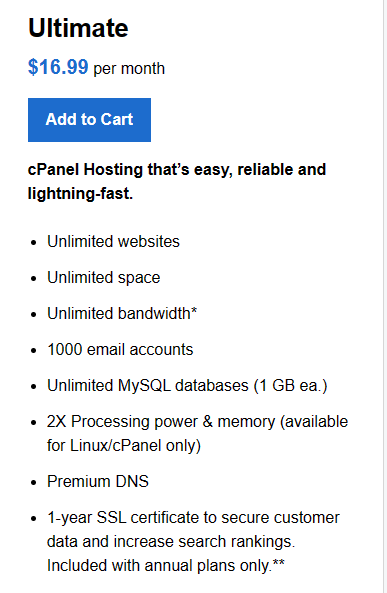 cPanel hosting refers to web hosting services that utilize cPanel as the control panel for managing and administering websites. cPanel is a popular web hosting control panel that provides a graphical interface and automation tools designed to simplify the process of hosting a website.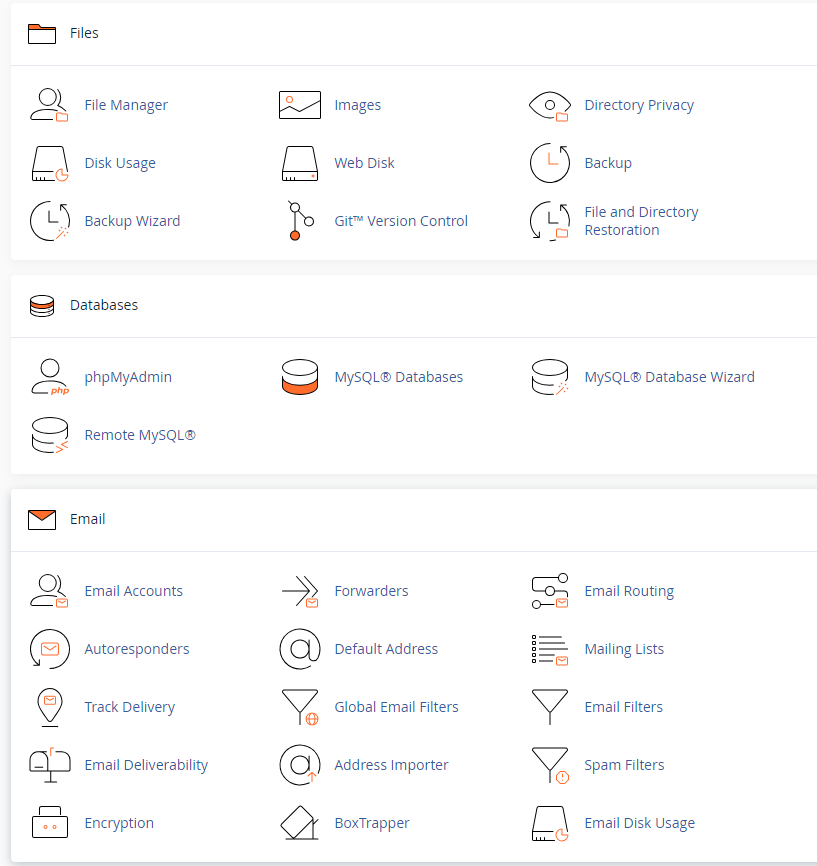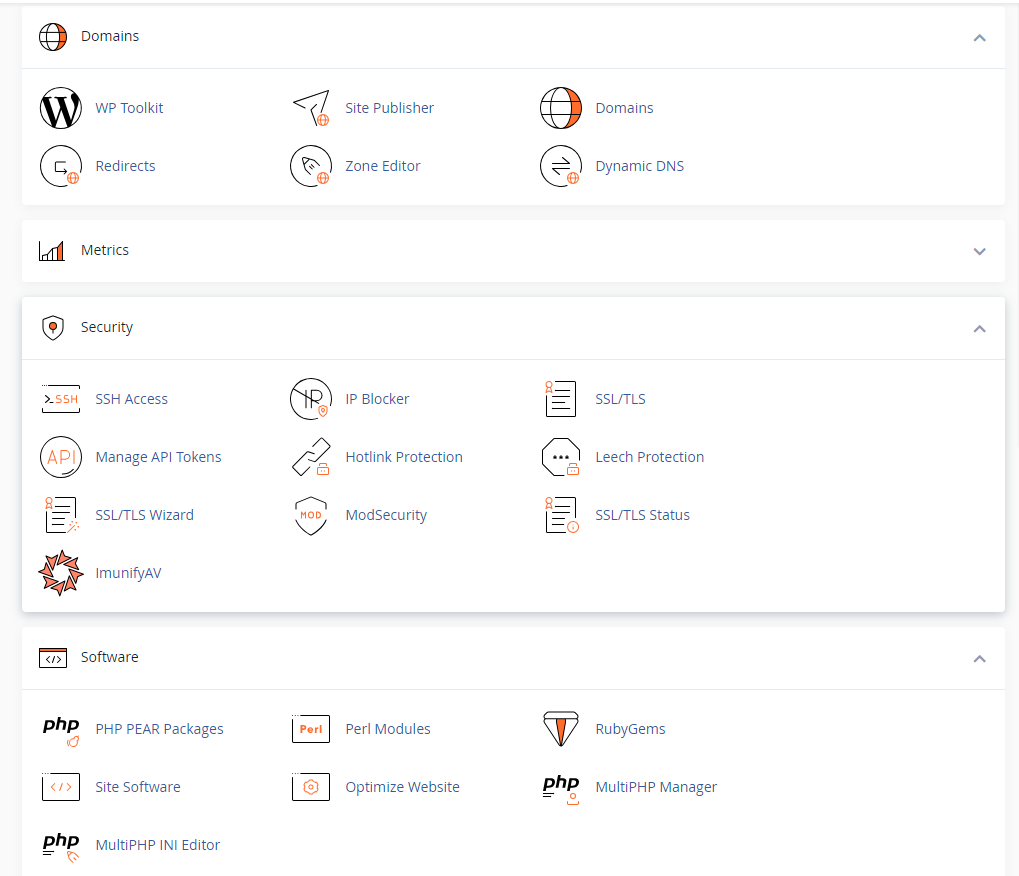 cPanel Hosting control Panel is widely used by hosting providers to offer a user-friendly platform for customers to manage various aspects of their web hosting accounts.
Key features of cPanel hosting include:
Website Management: Users can easily manage their website files, upload and download content, and organize their website structure.

Email Management: cPanel allows users to create and manage email accounts associated with their domain, set up email forwarding, and configure spam filters.

Domain Management: Users can add, remove, and manage domain names associated with their hosting account. This includes subdomains and domain redirects.

Database Management: cPanel provides tools for creating and managing databases, usually using MySQL. Users can create, edit, and delete databases, as well as manage database users.

Security Features: cPanel includes security features such as SSL/TLS certificate installation, IP address blocking, and password-protected directories to enhance website security.

File and FTP Management: Users can navigate and manage their website files through a user-friendly file manager. cPanel also supports FTP (File Transfer Protocol) for easy file uploads and downloads.

Backup and Restore: cPanel typically offers backup and restore functionalities, allowing users to create backups of their website and restore them if needed.

Software Installation: cPanel often includes tools like Softaculous or QuickInstall, which simplify the process of installing and managing various web applications, content management systems (CMS), and scripts.

Resource Usage Monitoring: Users can monitor their resource usage, such as bandwidth and disk space, to ensure they stay within the limits of their hosting plan.
cPanel hosting is popular for its user-friendly interface, which makes it accessible to users with varying levels of technical expertise. Many web hosting providers offer cPanel as part of their hosting packages, making it a familiar and widely used control panel in the web hosting industry.
Buy Managed WordPress Web Hosting
Our WordPress Hosting provides automatic setup, backups and software updates paired with 24/7, award-winning support. Get started in just a few clicks.
Maintaining a website shouldn't mean spending hours optimizing your server and battling security threats. With Managed WordPress, we handle the technical stuff for you – server setup, security, backups, even performance optimization – so you can spend your time designing, managing content and doing what's important to you.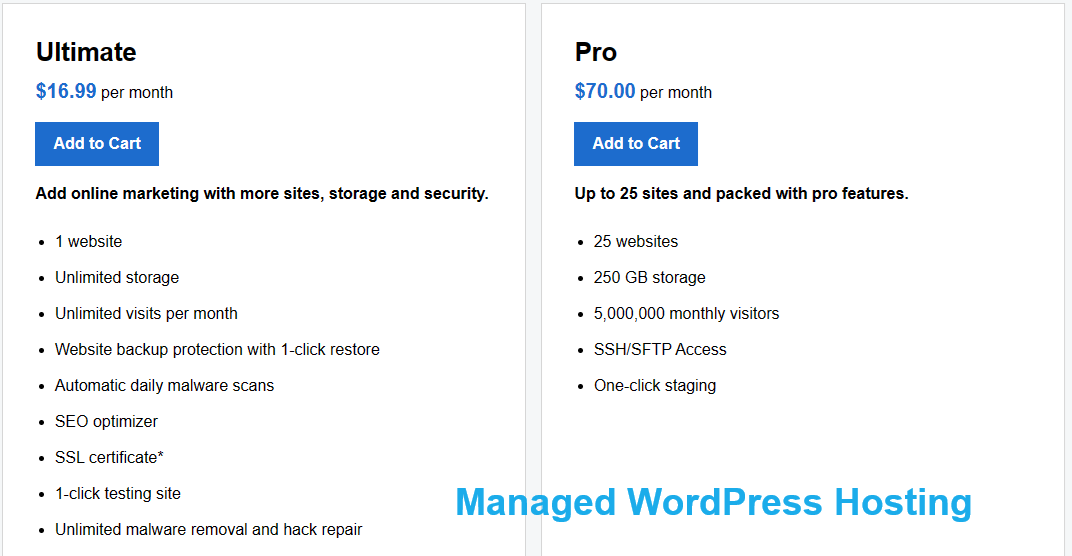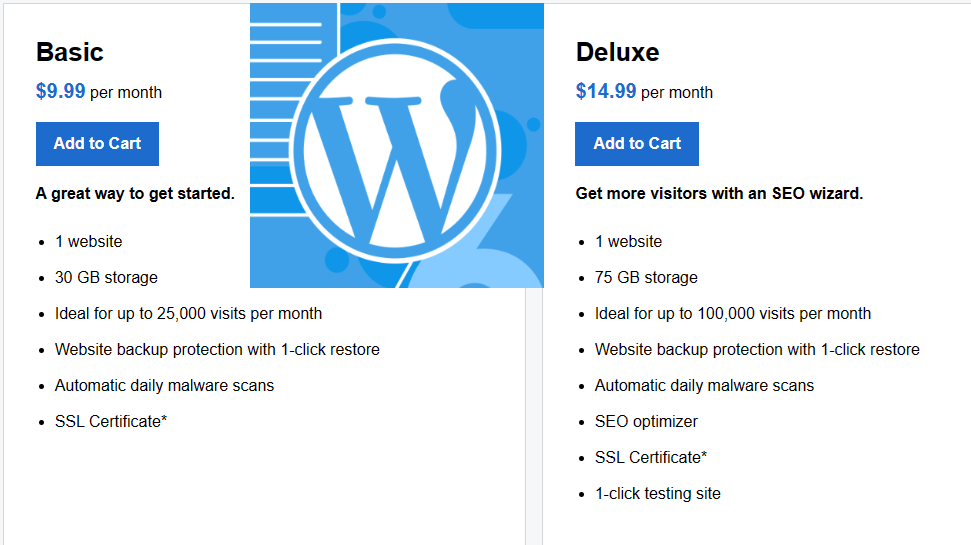 What is the Advantages of PowerHoster WordPress Hosting
Here are some potential advantages of using PowerHoster WordPress hosting service:
Ease of Use: GoDaddy is known for its user-friendly interface, and their WordPress hosting service is designed to be easy to set up and manage. This can be beneficial, especially for users who are new to hosting and website management.

Managed WordPress: GoDaddy's WordPress hosting is often considered a managed WordPress solution. This means that they take care of technical aspects like server maintenance, security, and performance optimization, allowing users to focus more on creating content and managing their websites.

Performance: Managed WordPress hosting services typically include performance optimizations tailored for WordPress websites. This can include features like server-level caching, Content Delivery Network (CDN) integration, and other optimizations to enhance the speed and responsiveness of WordPress sites.

Automatic Updates: GoDaddy's WordPress hosting may offer automatic updates for the WordPress core, themes, and plugins. This helps ensure that your site remains secure and up-to-date with the latest features.

Security Features: GoDaddy often includes security features in its hosting packages, such as malware scanning, firewalls, and DDoS protection. These measures can help protect your WordPress site from various online threats.

Customer Support: GoDaddy typically provides customer support through various channels, including live chat, phone, and email. This can be beneficial if you encounter any issues with your WordPress site or hosting environment.

Scalability: GoDaddy's hosting plans often come with different levels of resources, allowing users to scale their hosting package as their website grows. This can be useful for businesses or individuals expecting increased traffic over time.

Integrated Domain Management: If you've registered your domain with GoDaddy, their WordPress hosting service can offer seamless integration with domain management, making it easier to manage both your hosting and domain from a single dashboard.
Cheap Domain Name Registration And Cheap Web Hosting Service
A domain name is an identification string that defines a realm of administrative autonomy, authority or control within the Internet. Domain names are formed by the rules and procedures of the Domain Name System (DNS). Any name registered in the DNS is a domain name. Domain names are used in various networking contexts and application-specific naming and addressing purposes. You probably have hundreds of domain names stored in your head, such as:
powerhoster.com — our favorite domain name
google.com — one of the most used domain names in the world
mit.edu — a popular EDU name
bbc.co.uk — a three-part domain name using the country code UK
You'll recognize domain names as having strings of characters separated by dots (periods). The last word in a domain name represents a top-level domain. These top-level domains are controlled by the IANA in what's called the Root Zone Database, which we'll examine more closely later.
In general, a domain name represents an Internet Protocol (IP) resource, such as a personal computer used to access the Internet, a server computer hosting a web site, or the web site itself or any other service communicated via the Internet. In 2015, 294 million domain names had been registered.
Domain names are used to identify one or more IP addresses. For example, the domain name microsoft.com represents about a dozen IP addresses. Domain names are used in URLs to identify particular Web pages. For example, in the URL http://www.powerhoster.com/index.html, the domain name is powerhoster.com.
A domain name is an identification string that defines a realm of administrative autonomy, authority or control within the Internet. Domain names are formed by the rules and procedures of the Domain Name System (DNS). Any name registered in the DNS is a domain name. Domain names are used in various networking contexts and application-specific naming and addressing purposes. In general, a domain name represents an Internet Protocol (IP) resource, such as a personal computer used to access the Internet, a server computer hosting a web site, or the web site itself or any other service communicated via the Internet. In 2015, 294 million domain names had been registered.
Every domain name has a suffix that indicates which top level domain (TLD) it belongs to. There are only a limited number of such domains. For example:
Because the Internet is based on IP addresses, not domain names, every Web server requires a Domain Name System (DNS) server to translate domain names into IP addresses.
Because all of the names in a given domain need to be unique, there has to be some way to control the list and makes sure no duplicates arise. That's where registrars come in. A registrar is an authority that can assign domain names directly under one or more top-level domains and register them with InterNIC, a service of ICANN, which enforces uniqueness of domain names across the Internet. Each domain registration becomes part of a central domain registration database known as the whois database. Network Solutions, Inc. (NSI) was one of the first registrars, and today companies like PowerHoster.com offer domain registration in addition to many other Web site and domain management services.
Right now, We can register Hundreds of TLDs. We can register popular domain names, international domain names, and regional domain names and country domain names.
Domain Names work by linking with a DNS ( Domain Name Servers),  The DNS searches for the root DNS and local DNS to find the best way to your domain name. If you want to see how domain name work, please click here. With PowerHoster, you're guaranteed to find the perfect domain name that will help you bring your business success. A variety of domains are available to be registered quickly and easily, and at the best prices.  Millions of satisfied customers and over four million registered domain names speak for themselves!
What is a cheap domain name ?
[rstore-domain-search]
When you google "Cheap Domain Name" or "What is cheapest domain names ?" in google, you will get more than nine millions results. That is not true. You can not register a .com domain name at less than 10USD in most of domain registers. Prices for domain names vary among different registrars and hosting companies. The normal cost is in the range of $12 to $15 per year for the .com domain. Other gTLDs such as .net or .org may be less or more expensive. Specialty dTLDs such as .guru, can run as high as $100 a year.
But you can register .com in $8.99 here in powerhoster, a reputable domain register. When a domain register can provide less than 10USD .com domain registration, it should be called cheap domain name register. YES, it is true. We are proudly called "Cheap Domain Register". Normally you can not buy a .com domain name at less than $10USD in almost all offshore domain register. But they still call themselves cheap domain register. Some US licensed domain registers make a $39.99 .com domain name registration for two years and only charge first year $0.99, its registration fee per year is $20/yr (Shame on them). It cannot be called cheap domain register. We are US licensed and US operated domain register and we can allow you to easily and effectively administer and manage your domain name. We have set up more than 20 years and have well-established reputation.
The cost of a domain name can vary depending on various factors, including the domain extension (e.g., .com, .net, .org), the registrar you choose, any additional services or features included, and whether the domain name is a new registration or a renewal. Generally, domain prices can range from a few dollars to several hundred dollars per year.
Here are some general considerations to find a relatively inexpensive domain name:
Domain Extensions: Different domain extensions have different pricing. Common extensions like .com, .net, and .org are often more affordable than specialized or newer extensions.

Registrar Choice: Prices can vary among domain registrars. It's a good idea to compare prices from different registrars and check for any additional fees or renewal costs.

Promotions and Discounts: Many registrars offer promotions or discounts for the first year of registration. Keep an eye out for special deals, especially if you're registering a new domain.

Renewal Costs: Some registrars may offer a low initial registration cost but have higher renewal fees. Be sure to check the renewal pricing to understand the long-term costs.

Additional Services: Some registrars include additional services such as domain privacy protection, email hosting, or website builders. While these services can be beneficial, they can also contribute to the overall cost.

Domain Availability: The availability of a specific domain name can also impact its price. If the domain name is in high demand or considered a premium domain, it may come with a higher price tag.

Bulk Registration: Some registrars offer discounts for bulk domain registrations. If you plan to register multiple domain names, check if there are any bulk registration discounts available.
Remember that while cost is a factor, it's also crucial to choose a reliable and reputable registrar with good customer support.
When you have a domain name, you can promote your local business, you can protect your trademark, you can also earn money by selling customer products, and you can even earn money from online domain name and websites. We are especially good at helping our customer earn money online and helping you sell products via online domain names and websites. We have search engine optimization tools to help you get your desired results. We even provide free web hosting if you use our shopping carts features and website builder service. And as a bonus, you can get free domain names when you order one year virtual web hosting, Managed WordPress hosting, website builder and other packages on our plans list.
You can Register, Renew, and Transfer your Cheap Domain Names, as well as domain back ordering, registering domain privacy and businesses, and sitelocking here. You can also buy Dedicated IPs, Website builder, reliable WordPress hosting with thousands of free themes to chose and free plugins. You can register almost all kinds of TLDs domain here. We can register up to 600 TLDs. And YES, we are the cheapest domain registration service provider.
Frequently Asked Questions
How do I get a Domain Name?
Decide on a domain name extension. The extension is the part at the end of the domain name – .net, .biz, .org or .com, for example.
Think about what you'd like on the other side of the dot. It could be your business name or your specialty.
Type the domain you want into the box at the top of this page. We'll tell you if that particular domain is available and show others you may like better.
Pick one, add it to your cart and check out. You are now the proud owner of your very own domain. As long as it's registered to you, no one else may use it.
Tips on Finding a Good Domain Name?
Make it easy to remember. This is why many businesses get domains with their business names in them. Some people – including Bob Parsons – even choose their business name after they have a domain they like.
Don't register one that's trademarked, copyrighted or being used by another company. This can lead to losing the domain and/or legal problems.
Shorter is usually better because they're easier for customers to remember. It's also easier to get matching usernames for Facebook, Twitter and any other social media accounts you have.
Got a local business? Include your neighborhood, city or country in your domain so local customers can quickly see where you are. Check the list of geographic domain extensions – .berlin, .nyc – to see if there's one for your area. Fraserinnovations.com is registered by one of our company customer "Fraser Innovation Inc" and their neighbor and customers can remember them very easily.
Avoid numbers or hyphens. Anyone who hears your web address won't know if you're using a numeral (5) or "five." If your business name has a number in it, register both versions – with the numeral and with the number spelled out. Dashes are just asking for trouble and generally look unprofessional.
Get more than one. As traffic to your website increases, you may attract the attention of copycats who'll snatch up similar domain names in the hopes of drawing traffic away from you. Register similar or misspelled domains early so this won't be an issue later.
SEO Understandable  – You should know the keyword in your business. Google keyword planner is a very good keyword choice tools. You can google keyword planner into excel files and find which keyword is frequently searched, register it. No Matter popular domains or not.  FPGAMarketing.com is for FPGA Board Marketing. The customers can easily remember their domain name and google knows what they are going to do.
Register Number Domains for Chinese Based Customers –
if your website visitors are mostly for the Chinese, you can register number based domain names. Chinese pronounces number very simple and only one vowel in each number so they have very good memory for number(N). NN.com, NNN.com, NNNN.com, NNNNN.com is very easily for the Chinese to remember.
for more information about chose perfect domain names, please check 15 tips to chose a perfect domain names.
Why do You Need a Domain Name?
A domain name is a crucial component of your online presence, serving several important purposes:
Online Identity: A domain name is your unique address on the internet. It's the way people find and identify your website. Having a domain name that reflects your brand, business, or the content of your website helps establish a professional and memorable online identity.

Branding: A domain name is part of your brand identity. It's often the first thing visitors see, and it contributes to the overall perception of your brand. A clear, relevant, and easy-to-remember domain name can positively impact your brand image.

Credibility and Trust: A custom domain name adds credibility to your online presence. Visitors are more likely to trust a website with its own domain name (e.g., www.yourbusiness.com) than one hosted on a generic domain or subdomain of a hosting service.

Accessibility: A domain name makes it easy for people to access your website. Instead of remembering a string of IP addresses, which are the numerical identifiers of websites, users can type a human-readable domain name into their browser to reach your site.

Search Engine Optimization (SEO): Having a relevant and keyword-rich domain name can positively impact your website's search engine rankings. Search engines may consider the keywords in your domain name when determining the relevance of your site to specific search queries.

Consistency: A domain name provides consistency for your online presence. Even if you change your web hosting provider, your domain name remains the same. This consistency is crucial for maintaining your brand and ensuring that visitors can always find your website.

Professional Email: With your own domain name, you can set up custom email addresses (e.g., [email protected]). This not only looks more professional than using a generic email address but also reinforces your brand.

Ownership: Registering a domain name gives you ownership and control over that specific web address, as long as you continue to renew the registration. This ensures that others can't use the same domain name for their website.
In summary, a domain name is a fundamental and foundational element of your online presence. It plays a key role in branding, credibility, accessibility, and overall user experience. Whether you're an individual, a business, or an organization, having your own domain name is essential for establishing a distinct and recognizable presence on the internet.
When you Register Multiple Domain Names, you can:
Keep your competition from registering a similar domain name drawing customers to them instead of you
Promote the different products and services you offer
Drive more traffic to your website
Enjoy more opportunities to market to — and be listed in — search engines
Create distinct advertising strategies reaching different target markets
Provide customers more ways to find you when searching the Internet
Capture common misspellings of your domain name, instead of sending visitors to an error page
Protect your brand and online identity
There are a number of reasons for registering more than one domain name, mainly focused around future growth, enhancing online identity and allowing more access points to your online presence. Furthermore you will also by protecting your company from competitor hijackings that can restrict your online activity. For more why you should register more domain names, please check Why should you register more domain names ?
Search for your domain name
.COM Domain Name Only $11.99
c

Expand All
C

Collapse All
Domain Name System, or DNS, is the backbone of your online presence. Every domain name uses DNS to control how visitors find your website and how you receive email. You can think of your domain name as a street address, and DNS acts as your GPS. Visitors won't be able to find your address if the GPS isn't able to provide the correct directions. This means that if your DNS isn't correct, your website and email won't work the way they should.

When you type in a domain name in your internet browser, DNS works to find the information for that domain. Domains are a friendly way for us to remember how to get to a website, but underneath that friendly name, computers talk to each other using numbers. These numbers form Internet Protocol, or IP addresses, which act as the street address of your website working under your domain name.

When you type a domain name in your address bar to visit a website, your computer is looking for the IP address of that website so it can load the website for you. This is DNS in action — you type in the street address (the domain name), DNS finds the directions using IP address (the GPS), and the internet loads the website you're visiting.

In order to get you to your destination, DNS contains three main pieces to work properly: nameservers, zone files and records. Nameservers hold the zone file and the zone file holds the records. The records are the part of DNS that explains where your website lives or where you get your email, using IP addresses, but the records won't work if the nameservers aren't set up correctly.
How to find a domain that is as unique as you are and or your business is easy with POWERHOSTER.COM. If you have an idea to get online or a great name for your website, we recommend registering it immediately before anyone else does. You can use your domain name for your website and email. Your domain name establishes your online identity and increases branding, marketing and communication opportunities.
To get started, check to see if the domain name you want is available. If available, register the domain name for a period of time you specify during the checkout process.
To Check a Domain Name's Availability
Go to our Home Page.
In the search field, enter the name you want to register, and then select the domain extension from the list.
Click Search Domain.
If the domain you requested is already registered, we provide available alternative spelling and extensions. For example, you might be able to select a .info or .ws domain extension, rather than .com. Or you could register www.coolexample.info instead of www.coolexample.com.
If your domain is available, follow the instructions to complete the checkout process. Be sure to include valid contact information for each contact. The Internet Corporation for Assigned Names and Numbers (ICANN), the governing body for domain names, requires valid contact information (registrant, technical, billing and administrative). If you enter false information, your domain name can be canceled.
Your contact information is public and accessible through the WHOIS database at most registrars. However, you can protect your privacy by registering your domain name with us using our Privacy Protection which gives you complete control of the domain, including the rights to sell, renew, cancel or transfer it.
When you purchase privacy protection, the WHOIS database lists the name of our privacy affiliate company, as well as their postal address and phone number — instead of your personal contact information. For more information about domain privacy, see Private Registration FAQ.
No. Pre-registering a gTLD reserves your place in our queue for that domain. The instant the registration phase opens, we'll submit your registration electronically using our industry-leading technology to give you an edge.
If we can't get the name for you, we'll refund your registration cost. Application fees collected during the Priority Pre-Registration or Trademark phases are non-refundable.   If GoDaddy secures the name and more than one person or company has pre-registered it, all parties will be invited to a private auction to decide who gets it.
Competition for some of the new gTLDs is likely to be fierce. Pre-registering a domain name might give you an advantage over others wishing to register the exact same domain name. Much like standing in line for tickets, the earlier you get there the more likely you are to get one you want.   If more than one person pre-registers the same domain at GoDaddy, all applicants will be invited to a private auction to decide who gets it.
All domain extensions follow the same release sequence. The first registration period is always reserved for Trademark Owners. During the second phase – Priority Preregistration – anyone may increase their chances of getting a non-trademarked domain for a fee. Pre-registration comes next and allows you to get a jump on those who will try to register names during General Availability, which is open to the public. During this final phase, names are awarded on a first come, first served basis.
Yes. Thanks to the new gTLDs, speakers of nearly three dozen languages – including Arabic, Chinese, and languages based on the Cyrillic alphabet – will have their own domain extensions. This will be a huge bonus for companies that promote their products in countries where these languages are spoken
The short answer is to increase your web naming options. With .COM nearing its 30th birthday, many of the best and most valuable domain names have already been registered. This has long been a frustration for business owners, forcing them to make up names for their businesses just to find an available domain name.
With the introduction of new gTLDs, you have a fresh chance to get the domain name you really want. Because many of the new domain extensions are specific to particular industries, interests or locations, your web address can now tell people exactly what you do (or where you do it). This makes the new domains easy to remember and you easier to find online.
Many of the new domains that are becoming available on the web are called gTLDs or generic Top-Level Domains (TLDs). Like the original TLDs – .COM, .ORG, .NET – the new gTLDs are part of what people type into the address bar of their web browsers to get to your website.
Thanks to these new domains, your website address can now describe who you are or what you do. For example, .PHOTOGRAPHY, .BUILD and .ATTORNEY all tell visitors something about what you offer. With a gTLD, you get a web address that's specific to you and easy to remember so you can find more customers online.
Even though .com domain extensions have been around longer, that doesn't mean newer gTLDs will receive different treatment when it comes to search engine rankings.  According to John Mueller, a Webmaster Trends Analyst at Google, "overall, our systems treat new gTLDs like other gTLDs (like .com & .org). Keywords in a TLD do not give any advantage or disadvantage in search."
A domain name is an identification string that defines a realm of administrative autonomy, authority or control within the Internet. Domain names are formed by the rules and procedures of the Domain Name System (DNS). Any name registered in the DNS is a domain name.  You have 15 tricky to chose a good domain name, normally you need a .com domain name because a lot of other domain names like .net, .org , .ca, or .biz are just working for .com domain name.
We have listed 15 tips to choose good domain names:
Easy to type and remember
Short and simple
Use keywords or phrases
Target your area
Choose a more descriptive domain name
Must be SEO understanding
No trademarked domain names
Register number domains for Chinese based customers
 Which domain extensions to use ?
 How many domain names should I register ?
Make your Domain Name easy to pronounce and spell
Avoid Hyphens in domain name
Avoid double letters
Act fast
Where to register your domain ?
for more information, please check https://domain.powerhoster.com/15-tips-for-choosing-the-perfect-domain-name/
The .biz domain, operated by NeuStar, Inc., is restricted to businesses.
The .com domain, operated by VeriSign, Inc., is a generic top-level domain originally intended for commercial businesses around the world.
The .info domain, operated by Afilias Limited, is an unrestricted domain for websites containing information about you, your organization, your products or any other information you'd like to make available to a global audience.
The .name domain, operated by VeriSign, Inc., is reserved for individuals.
The .net domain, operated by VeriSign, Inc., is a generic top-level domain used by many types of organizations and individuals globally; it was historically intended for and is still commonly used by Internet service providers.
The .org domain, operated by Public Interest Registry, is unrestricted, but was intended to serve the noncommercial community.
The .pro domain, operated by Afilias plc, is restricted to certified professionals and related entities.
We can register all above domains and we are even cheaper than you register in above domain registers.
Just check whether your domain name is available in our domain search box, if it is available to register,  We will ask you to provide various contact and technical information that makes up the registration.
The registrar will then keep records of the contact information and submit the technical information to a central directory known as the "registry." This registry provides other computers on the Internet the information necessary to send you e-mail or to find your web site. You will also be required to enter a registration contract with the registrar, which sets forth the terms under which your registration is accepted and will be maintained.