Affordable advertising for your business.
Increase traffic and make your
Web site
visible on the MILLIONS of daily searches at both POWERHOSTER.COM and other registrars with Business Registration. It's your complete online listing and it's instantly visible to everyone who searches for your domain name in the WhoIs database.
With Business Registration: All of the company's vital information is listed on the front page, including the physical address, phone and fax numbers, hours of operation and a personalized description of the business – there are even links to the Web site and a map of the business.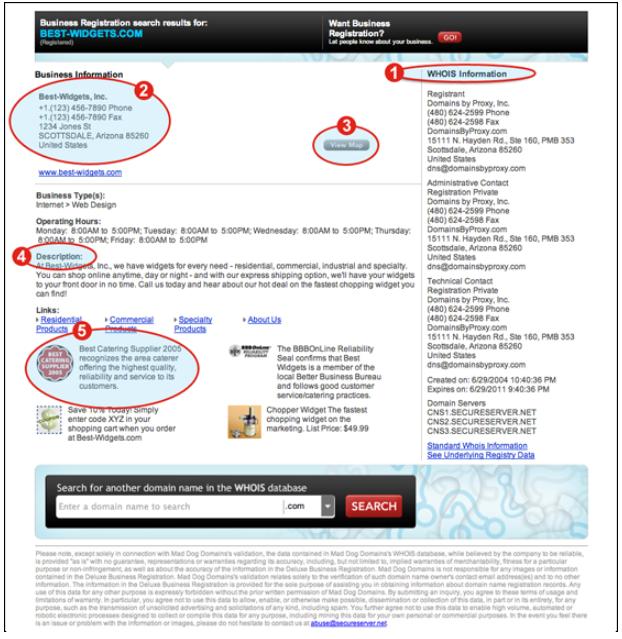 FREE Online Business Card website presents your business name, logo, up to four links, phone number, address, operating hours, directions to your store – you can even add photos!
Help visitors find your place of business with a detailed online map (international mapping available for 67 countries).
Give potential customers a special message or offer! Use the description field to add your comments, display business awards or offer coupons.
Selling your domain name? Business Registration can also include domain auction and appraisal information from POWERHOSTER.COM Auctions®.
Includes 5-star user rating system as well as customer reviews.
Have more than one business domain? Organize multiple listings from one screen.
Business Registration Example | Increase Traffic and Visibility
Business Registration:
Standard WhoIs information that contains personal domain registration details (can be kept private with optional Private Registration)
Make it easy for customers to reach you with all of your vital contact information, including your logo and a link to your Web site.
Help visitors find your place of business with an optional online map.
Explain the nature of your business or present a special offer with the description field.
Space to display up to 4 images and 4 hyperlinks – perfect for driving customers to your website.
What is Business Registration?
Business Registration provides more prominent visibility on your domain name's Whois listing by letting you add a logo, business links, images, business hours, coupons, and even a local map that highlights your location. You can only add Business Registration to domain names registered in your account with us. However, you can associate a Business Profile with any valid domain name, regardless of where it is registered