Search for your .app domain name
.app Domain Name Only $19.19
What is .app?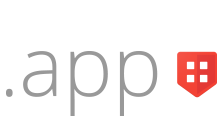 .app is a more secure domain for apps. From games to news to education, .app is the perfect home for your app.
Who can register these domains?
Anyone can register .app domain names on a first-come, first-served basis.
Renewals
We'll attempt to auto-renew your .app domain on its expiration date. We'll park .app domains after the first failed billing attempt. If the domain isn't renewed within 45 days following expiration, we cancel it and remove it from your account.
Refund policy
For priority pre-registration please use the following information: The application fee is refundable only if the domain is not awarded to a customer. In those cases where you are not awarded the domain, you are eligible for a full refund for price of domain plus the Early Application fee. This fee is non-refundable in cases where you win the domain. If you win the domain, then decide to cancel it before the grace period ends, you will only receive a refund for the domain price and will not receive a refund for the Early Access Fee.
For details on refunds, please visit POWERHOSTER.COM's Refund Policy page.
Most domains will follow the Standard Terms, but certain domains will have exceptions or may not be refundable at all. Look under BOTH of the following categories:
Products with Special Refund Terms (look under Domain Name Registrations/Renewals)
Products Not Eligible for Refunds
Nameserver requirements
One nameserver is required for .app domains to resolve, and a maximum of 13 nameservers is allowed. DNSSEC, IPv4 and IPv6 are supported.
SSL requirements
The. APP extension is a secure namespace, so you need HTTPS and an SSL certificate for your website to load on most browsers. Due to these SSL requirements, domain forwarding is not supported for .APP domains. Your .APP registration includes a free credit for our Standard SSL certificate. Once you log in, you will need to redeem and activate your SSL certificate.
Your free Standard SSL certificate is only eligible for support when it's used with your .APP domain. To ensure continued support, please do not use this free Standard SSL certificate with another domain.
Charleston Road Registry (d/b/a a Google Registry) is the sponsor and the backend provider for the .app extension.
Registration periods
| Phase | Dates |
| --- | --- |
| Pre-Registration | Estimated April 23, 2018 |
| Early Access | May 1, 2018 |
| General Availability | May 8, 2018 |
These domain names can have up to 63 characters, with a minimum of 1 character, and can contain letters (a-z), numbers (0-9) and hyphens (except in the 3rd or 4th characters of the domain name). You cannot register domain names with special characters such as & and #.
Be more secure.
Your security is our priority. The .app top-level domain is included on the HSTS preload list, making HTTPS required on all connections to .app websites — no individual HSTS registration or configuration required. The result is built-in web security for you and your users.
Get a memorable domain.
The name says it all. Find a brand new .app name to match your company or product, so you can market your apps with a unique and relevant URL.
Get discovered.
You're proud of all the work you put into your app. Now, with a unique domain, it'll be easier for people to find your app.
Engage your audience.
Use your .app domain name to keep your audience engaged and up-to-date about your app — from relevant, trustworthy download links to release notes, reviews, and more.