WordPress® is a blog- and Web-publishing platform that's not only easy to use, but recognized the world over as a standard in website creation. With its focus on aesthetics, Web standards and usability, WordPress is an open-source platform that lets you manage everything from a small personal blog to a large commercial site with hundreds of pages. Hundreds of thousands of sites trust their online presence to WordPress – and with Managed WordPress Hosting from POWERHOSTER.COM, you can too.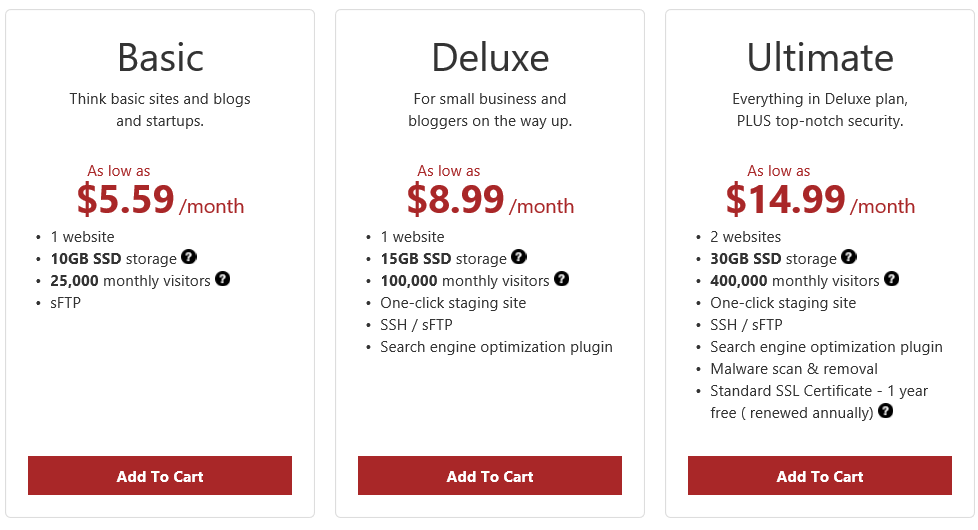 WordPress has evolved throughout the years into a versatile content management system (CMS). While you can still use WordPress to create a simple blogs, it now also allows you to create fully functional websites and mobile applications. Used across both personal single page websites and industry grade hundred page websites, WordPress.org and WordPress.com ranks among the top competitors for page site ranking and ease of use for the user.
                   Why WordPress is The Best

The WordPress community is present all around the world, WordPress professionals, designers, bloggers, enthusiasts often hold meeting to talk about WordPress and their functions as well as extensions. If you ever need a place to meet like-minded, inspiring individuals, consider participating in a WordCamp conference. In 2015 there have been 89 WordCamps, with over 21,000 tickets sold and 1,677 unique speakers.
WordPress.com ranks 44 among all websites in the Alex ranking system.  There are currently more than 47.6 million websites that depend on WordPress.  The keyword "WordPress" alone receives over 450,000 exact match searches every month. And that's just "WordPress", not "WordPress help" or "WordPress plugins" or anything of the sort.  Eighty Percent of top one million Alex ranked websites are built up on WordPress. Of the top 1,000,000 sites in the world, the number of business sites (most popular with WordPress) powered by WordPress is five times the number of WordPress-managed news sites. If you search google about the keyword "powered by wordpress", there is more than 79,400,000 results.
With WordPress, you can manage anything from a simple personal site with just a few pages all the way up to a commercial site with hundreds of pages. The sky is the limit with WordPress, and thanks to that ease of use, it doesn't matter if you're a Web expert or just getting started. Anyone can create a fantastic website using WordPress.
In the 300+ content management system, WordPress is in the dominance of all CMS Market.  It's ranks further up and away from even the most popular CMS, with the next two closest competitors — Joomla and Drupal — powering less than five percent of all websites. W3Techs' Matthias Gelbmann says WordPress's dominance is only going to get bigger.
By W3Tech statistics, WordPress sponsors more than 28.1% of all websites and is used by some of the best known websites: Time, TechCrunch, Wired and Lifehack,  to simply name just a few. When we split up all websites by traffic level, we see that WordPress is leading at all levels.
More and More Websites Becomes WordPress Sponsored Websites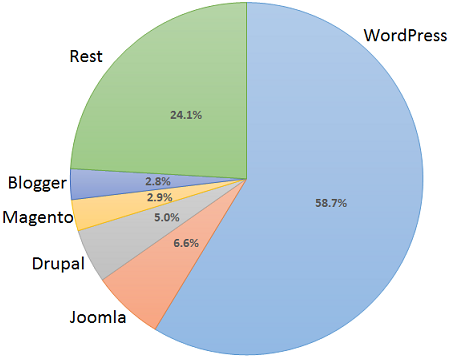 Surprisingly 57% of websites are not using any CMS system yet. While we work as a web designer and design a lot of websites for our customers, we found out that websites which are not CMS certified are more easily compromised, especially when they don't update their software often (which they don't).
Spammers and hackers are always there on the lookout as well as "Bad Behavior" robots to find and exploit some black-holes in your own designed websites.  By making use of CMS, we will always get and install crucial updates which are backed by all kinds of developers all over the world. Dedicated to fighting the hackers and spammers. Not to mention WordPress itself has a lot of anti-spam plugins and security plugins to keep spammers and hackers away.
We have almost changed all our customer's websites to WordPress Sponsored Websites.  So we do think more and more websites will be changed to WordPress based websites soon. There are more and more experts in the business of WordPress. If you are looking for a high quality website for yourself or your business, the price will more often than not be over $3,000. Good freelancers will charge anywhere between $3,000 and $15,000 for the complete development of a website.
The free WordPress.org platform that supports self-hosted websites has been downloaded 46 million times up till July of 2013, which approximates to 100 downloads every day since 2003.
Why WordPress Is The Best!
1. WordPress is very easy to learn, use, and manage.
You can download and install WordPress website very easily. Just several click away and your website will be online. Go to your web hosting control panel and click WordPress, and then click install. Your WordPress website is now online, but devoid of material. Next the install process will ask you for your domain name and the directory you wish to install WordPress in. And the last step would be choosing your admin username and password.
After you have created your WordPress website, you can go to your admin control panel http://xamplewebsite.com/wp-admin using your username and password you just created. Then you will have access to the following Dashboard: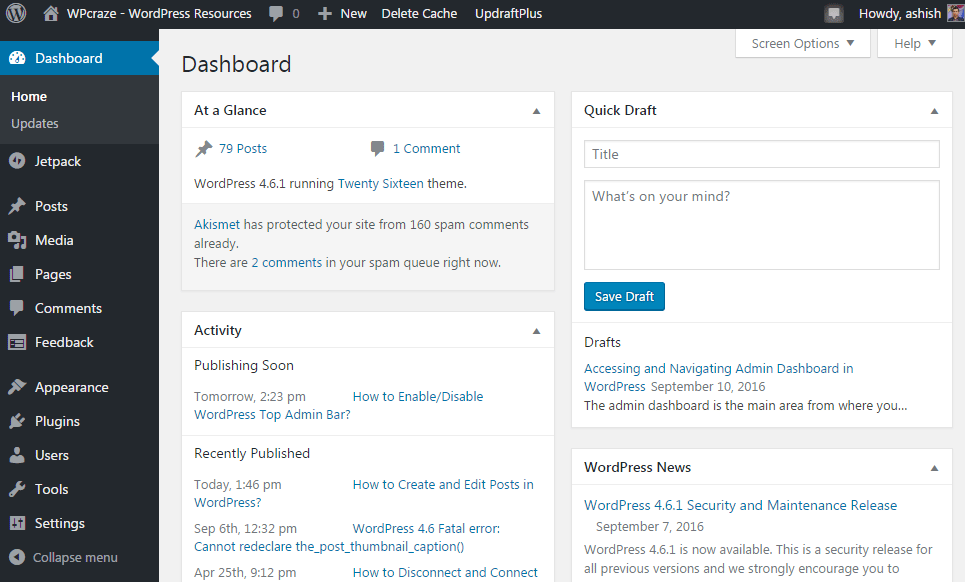 Once you're logged in, the first thing that displays is the dashboard of the administration panel. The administration panel is the brain behind your website. This is where the organizational structure of your site begins. The administration panel provides access to the control features of your WordPress installation. The panel is presented in sections: the header, the main navigation, the work area, and the footer. The large area in the middle of the screen is the work area. Specific information relating to a particular navigation choice, such as adding a new post, will be displayed here.
2.WordPress Is Free
WordPress is such a versatile, super-friendly content management system, that not only is it used by Fortune 500 companies like eBay, GM, and Reuters News, it is also used by over 7.5 million other sites of all sizes and niches. Best of all, WordPress is a free software, this means you are free to download, install, use and modify it. You can use it to create any kind of website. It is also open source which means the source code of the software is available for any one to study, modify and play with.
WordPress is a Opensource community software. It is maintained by a large group of volunteers majority of whom are WordPress consultants with active interest in growing and maintaining WordPress. Anyone can contribute to WordPress by writing patches, answering support questions, writing plugins, creating themes, translating WordPress and updating documentation.
There are lots of articles and forums talking about WordPress. WordPress Forums are a very good community to ask questions and some users or webmasters may answer your questions. A lot of programmers and developers may also answer your questions. You can get free support at any time.
3. WordPress has Powerful Features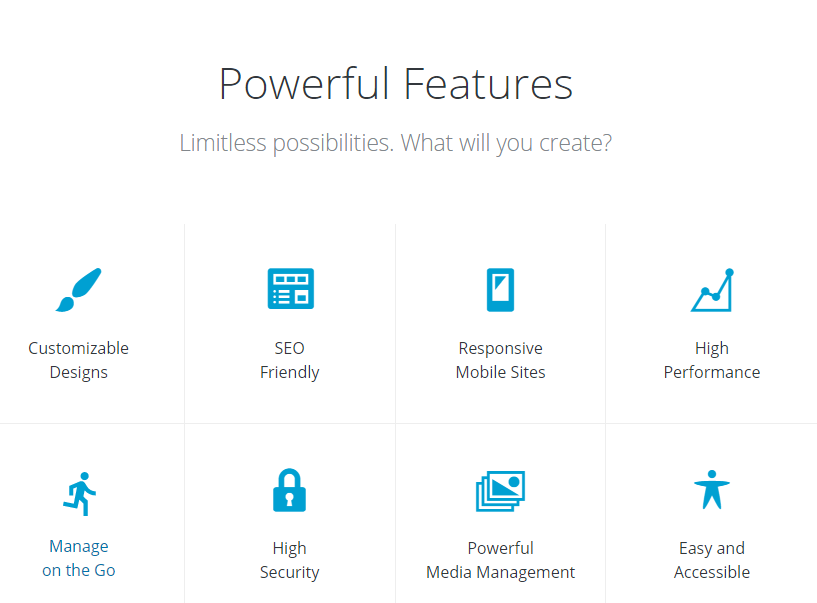 WordPress Powerful Features includes Customizable Designs, SEO Friendly, Responsive Mobile Sites, High Performance, High Security, Powerful Media Management.  There are more than 45,000 Plugins to help your website meet your needs. Adding an online store, galleries, mailing lists, forums, classified, buy and sell websites are only a click away through the use of specific plugins. No programming and code knowledge needed! As a matter of fact, most webmasters begin their profession through making and maintaining WordPress websites without any prior programming knowledge.
WordPress websites are also SEO friendly and there are lots of SEO friendly plugins such as Yoast SEO, All in One SEO Pack, The SEO Framework, Jetpack by WordPress.com, SEO SQUIRRLY™, WordPress SEO Plugin, SEOPress.
WordPress websites are more Secure than any other open sources due to the sheer amount of developer contributing and maintaining new security code to the software daily. There are a lot of security plugins such as Wordfence Security, All In One WP Security & Firewall, iThemes Security (formerly Better WP Security), Sucuri Security – Auditing, Malware Scanner and Security Hardening, Shield Security, BulletProof Security …
WordPress websites are faster. There are a lot of cache plugins that can help you to create static like websites. The cache plugins are WP Fastest Cache, Comet Cache, WP Super Cache, LiteSpeed Cache, W3 Total Cache. This will help reduce the load on the web browser by dynamically reducing the wait times for the websites to load. And even shorter wait times on repeated visits.
4. WordPress Can Handle Different Media Types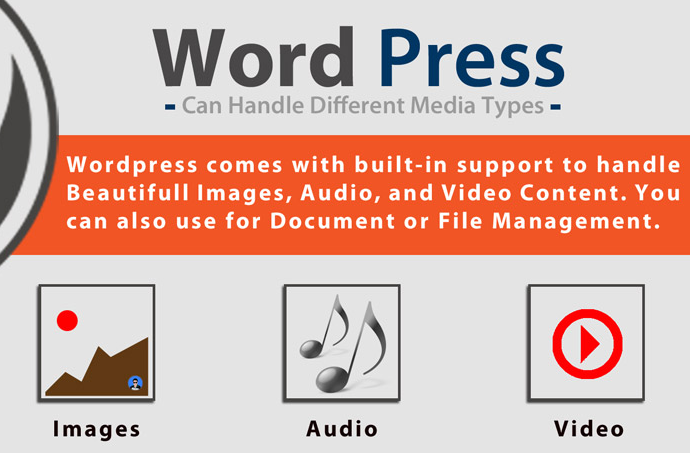 Using WordPress you are not just limited to Writing text. It comes with built-in support to handle Beautifull Images, Audio, and Video Content. You can also use for Document or File Management.
WordPress supports Embed enabled Websites which means you can embed YouTube videos, Instagram photos, Tweets, and Soundcloud audio by just pasting the URL in your post. You can even allow your Visitors to Embed Videos in comments.
5. WordPress can be very beautiful
A theme controls the general look and feel of your site including things like page layout, widget locations, and default font and color choices. WordPress has a wide range of themes for you to choose. Most of them are free.  There are thousands of themes for WordPress. You can modify the theme and meet your needs. The beauty is limitless. You can customize it yourself easily or hire somebody to customize it for you.
What WordPress Can be used for ?
WordPress can be used in many different ways. It is open to all kinds of possibilities. You can customize it to all websites in the whole world. You can design your WordPress website to:
NEWS
Dating
Arcade
Forum and Discussion community
Classified like alibaba
Job Finding and Job Board
Bidding
Video Uploading and Showing  like youtube
Content Management System (CMS)
Gallery
Portfolio
Rating Website
Ecommerce Shopping such as Amazon
Coupon Website Combined with google Maps
Twitter like website
Issue Tracking and Quality Control
Booking System
Free or Payment Membership
Customer FeedBack
Support Desk
Real Estate
Quora Like Website
Maintaining a website shouldn't mean spending hours optimizing your server and battling security threats. With Managed WordPress, we handle the technical stuff for you – server setup, security, backups, even performance optimization – so you can spend your time designing, managing content and doing what's important to you. We will provide you  a completely hassle-free experience.
This plan is especially good for almost all adult website owners because thousands of wordpress themes and thousands of wordpress plugins ( free or payable ) can make any adult webmaster websites in the whole world. Almost 80% of top one million websites are designed by wordpress.  One of the best parts about Managed WordPress hosting is the premium support. Your support is provided by real WordPress experts with lots of experience rather than someone who is reading a support manual.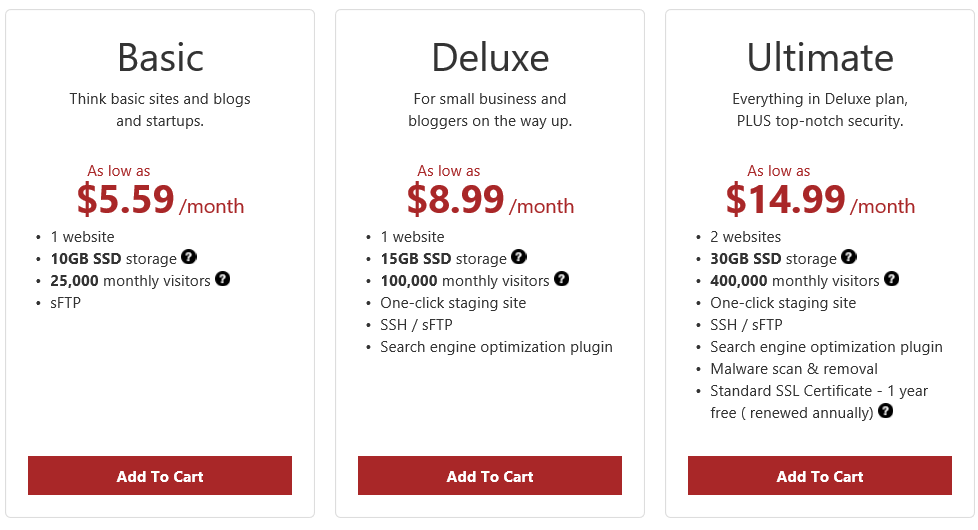 All Managed WordPress Hosting Plans Include
1000s of themes and plugins
One-click migration tool

sFTP accessProtect files as they are transferred to or from your site by encrypting them through a Secure FTP (sFTP) connection 

to WordPress files
Nightly backups and one-click site restore
Redundant firewalls, malware scanning and DDoS protection
Daily backups & 1 click restore
Automatic WordPress Core Updates

Temporary website addressEach plan includes a free domain, but if you're not ready to choose your name, you can use a temporary domain to set up your account and register your official domain later.

One-click SSL installation
Localized in 37 countries and 17 languages

Premium WordPress Hosting PlatformBuilt specifically for WordPress to optimize the speed, reliability and security of your site.

Award-winning 24/7 support
*99.9% uptime guarantee
Keep hackers away
Your site gets the personal bodyguard treatment, 24/7. Our security team monitors, thwarts, and deflects so you can rest easy.
Our Managed WordPress Hosting is Built for speed, reliability and security
•One of the fastest WordPress hosting platforms in the industry.
•Optimized for WordPress with expert tweaks you won't find anywhere else.
•Designed to handle huge traffic spikes with automatic scalability.
•Guaranteed 99.9% uptime and support.
•See how we deliver industry-leading performance.
You have better things to do than manage your hosting.
Built for tech-savvy designers and developers, WordPress lets you create gorgeous, content-rich websites with 1000s of free themes and plugins developed by the WordPress community. And as a content management system (CMS), you can assign authors, manage permissions, even make change across your entire site at once instead of a page at a time.
Maintaining a website shouldn't mean spending hours optimizing your server and battling security threats. With Managed WordPress, we handle the technical stuff for you – server setup, security, backups, even performance optimization – so you can spend your time designing, managing content and doing what's important to you.
Some wonderful advantages of using WordPress
Since its beginning, WordPress strived to be the most feature-packed CMS (Content Management System) for sites. Originally, it maybe was not the perfect software for website development; however, over the past few years it has changed into the most famous option. More than 20 percent of websites are made on WordPress, plus there are more than 80 million websites making use of WordPress Technology. WordPress was originally begun as a platform made for blogging has slowly changed into feature-rich and revolutionary Content-Management-System, along with the structure to support sophisticated sites. Well, there are so many interesting reasons of why WordPress must be your option of CMS. Let's take a look at some popular benefits of using WordPress.
Lucrative in several ways
For the majority of people money matters the most. Today, people don't prefer hiring web developer or web designer for making simple content changes into their website. With the help of WordPress, people can simply create their site, edit and add themes, include web pages, plus make changes with simplicity. People can easily add videos, include interactive banners, and add call-to-action buttons, uploaded pictures, and add plugins for creating interactive functionality and  high-level features. You may be hold over the online globe due to the expenditures involved with appointing a developer or designer. Even your developers and designers prefer using WordPress most of the time. The basic reason of using WordPress is to make it simpler for setting up and handle websites. That implies less cost in updates, development, design, and everything else. Keep one thing in mind that WordPress is an Open-Source technology; therefore you don't need to purchase it.
Easy to handle
The best thing regarding WordPress is that people can easily use it anywhere and anytime if they have browser and Internet connection. You don't require any particular program, like Dreamweaver, or FTP Client for uploading and managing documents. Everything can be done from your local browser. You only have to log in and make some changes via your WordPress cPanel. If you are searching more suitable option then you should use powerhoster, as it is providing simple access to Control Panel for uploading and updating.
Fast Indexing, Edits, and publishing
WordPress is said to be an extremely fast tool. nothing else can beat WordPress when you wish to publish new content or edits. Also, you can preview the stuff, publish your post and they will directly go live immediately. Websites made in WordPress are also listed rapidly by search engines, particularly Google.
Interactive Plugins
Previously people were accustomed to believe that building a customized website was suppler than employing WordPress. Because, developers and designers believed that WordPress was somewhat limiting. Maybe that was the case long years back, but not now.  Currently, there are hundreds of thousands of add-ons and plugins, developed not by WordPress, but through the society of developers. If you would like to optimize your site, a plugin is available there. If you would like to include Google Adsense, a plugin is available there. If you would like to produce a web based course, a plugin is available there. Actually, there are numerous plugins for almost any imaginable function you could wish. If you don't find plugins for anything, then you can find a group of developers who are all set to develop anything you want. WordPress is actually an open source destination which enables developers all across the globe to make plugins and include them to the library. Some plugins are paid, while some are free, and several employ the Freemium model, thus you can check them out for different size.
Steady Design with Themes
There is a thing to keep in mind that when you install a design theme in your WordPress site then you can create your entire website to follow the exact structure and design. This is how exactly the themes and appearance work in WordPress. Well, you can also purchase a pre-designed theme here, have a specific design customized for your site, or you can simply use free themes of WordPress'. You are not required paying your developer or designer for each web page they make. As soon as you have the primary designs stored in your WordPress site as themes, you can simply follow the exact same format for numerous pages. It decreases your expenses and guarantees reliability.
Flexibility of design with PHP
When it comes to design reliability, many people imagine it as a constraint. They think that WordPress limits their site designs. That's not quite good! Actually, WordPress gives you with loads of flexibility for having a different functionality, menus, elements, and layouts deployed for different categories, pages, posts plus for your blog. WordPress is created with MySql, CSS, and PHP. This database and language combination allows you to do anything you wish.
Mobile receptiveness
A great advantage of employing WordPress is that its themes are mobile friendly. With more that 50 percent of website visits coming through mobile handsets in various regions, hence a non-responsive site is a poor website. A few search engines, especially Google, take mobile-optimization sincerely. It is getting more and more important aspect in the leading search ranking algorithms. When your site's theme is not responsive already then you can make use of plugins that change the look of your website, or correct your CSS documents to make sure that your site is ready for tablets and smartphones.
Easy to add Blog
Few years ago, Google told about the significance of having a blog section into a website. Blogs have numerous advantages, for example,
Providing you the chance for adding limitless content into your site
Boost connections with your consumers
Make sure apt updates about service policy
Launch latest products,
Grab the attention of visitors for precise themes and keywords
With WordPress, it takes only few clicks to add blog into your site. There are numerous pre-designed themes available for blogs in WordPress, and some main themes are accessible with an integrated blog design. You just need to add your blog into the menu option and begin publishing the required contents as blog posts. Your content is published in the style of archive, which make is easier for readers and search engines to get hold of the previous or older posts of your blogs. Also, you can make use of Permalinks settings for making the urls search engine-friendly. WordPress is decisively recognized as the idea blogging software. Thus, it surely succeeds in this part.
Scheduling and Time Management
WordPress enables you to plan contents or web pages to go live afterward. If you wish to post or publish your content after a month, a week the n you don't need to publish them by yourself on the selected schedule. In its place, you just can add your content and set the date of publish. This automation of content makes it very easy to handle numerous blogs.
Social Media and Engagement
In today's web-based dominated world, social media engagement is the major aspect to consider for making your work company successful. Whether you wish to connect with an already set up consumer base or want good ranks on leading search engines, social media network is important. Google as well as other leading search engines consider social networking signals being sent to the site in their latest ranking algorithms. Therefore, social media acts as a reliance signal for search ranks. In simple words, no social signals imply that Google may view your site with disbelief.
WordPress gives loads of tools and plugins at your removal for boosting social engagement. Blog posts or contents can automatically be integrated to social platforms, your website can be set with social buttons to allow connecting, pinning, liking, and sharing.
Multimedia Support
Today, multimedia is said to be the lifeline of several websites. Since text content is still very popular and admired, but today search engines see multimedia as symbol of a more engaging and immersive website experience. In fact, in some businesses users anticipate video content and if they don't find that they just leave that site. Multimedia contains social media feeds, RSS feeds, forms, images, videos and a lot more. Actually, the most latest HTML 5 edition supports java and flash animations to a considerable extent. The conventional method of keeping your site frivolous to delight search engines must be unbiased against the search engine benefits and major user experience of having multimedia content and great images on your website.
By using WordPress, you can simply integrate banners, sliders, animations and call-to-action buttons, Flash and Java animations, campaigns, blogs, videos and many more. Actually, there is certainly nothing that people can't do with WordPress as far as the multimedia is concerned. Even you can include social networking functionality to your site enabling your viewers to make profiles and accounts, receive and send messages, and so forth.  On the whole, WordPress provides you the chance to make your site interactive and appealing.
Related Terms