WordPress is an online, open source website creation tool written in PHP. But in non-geek speak, it's probably the easiest and most powerful blogging and website content management system (or CMS) in existence today. WordPress is the most popular open source Content Management System (CMS) used in 73 million websites. It is free to install, deploy, and upgrade. Thousands of plugins and templates power a flexible and simple interface, which reduces cost and deployment time.
WordPress can be used in almost any field including CMS, People, Music, Business, Celebrities, Education, Entertainment, Technology, College, Culture, Auto, Health and beauty, shopping, associate, SEO websites, Sports, Publishing, website hosting, domain registration, News and a lot of other fields. The Top Brand websites that use WordPress is Techcrunch, Bloomberg, BBC America, facebook, and disney. A lot of big casino websites are also built up by WordPress platform.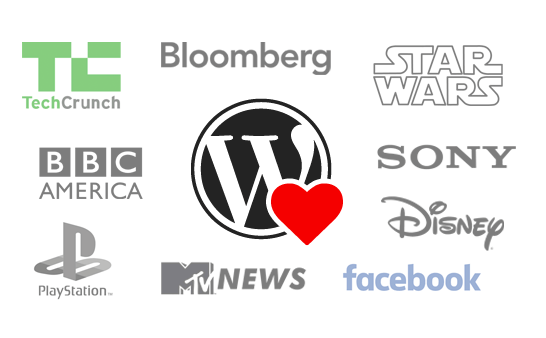 The best WordPress Websites that we think is TechCrunch, The New Yorker, BBC America, Bloomberg Professional, The Official Star Wars Blog, Variety, Sony Music, MTV News, Beyonce, PlayStation.Blog, Sweden's Official Website, Microsoft News Center, Boingo, Bata, cPanel Blog, Quartz, Usain Bolt, The Walt Disney Company, Time Inc., Facebook Newsroom, The New York Times Company, The Ink Tank, Greenwich Library, Harvard University Graduate School of Design, Travel Portland, and Harvard Gazette Onine.
The Most Popular Website Building platform is WordPress
In Html times, Most sites were built using HTML (code), CSS and even Flash. These took a lot of time to learn and were tricky to webmaster. At that times, the FrontPage is a most for all non-professional webmasters. But now, all changed because of WordPress, Drual, and Joomla CMS software. A content management system (or website building platform) is a user-friendly platform for building websites and managing your own online content, instead of using a bunch of loose HTML pages.
WordPress is only a blog platform at the beginning but now it is the most powerful website building platforms with thousands of beautiful themes and effective plugins. Best of all, almost all plugins and themes are free software. In 2017, WordPress occupies almost half website building platforms.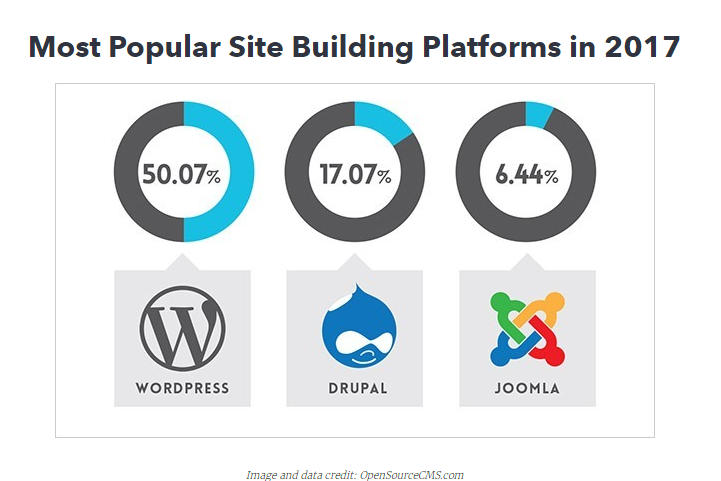 Why we should use WordPress to build our websites ?
You're in good company if you use WordPress to publish on the web. Many famous blogs, news outlets, music sites, Fortune 500 companies and celebrities are using WordPress. Why should I use WordPress to build up my websites ?
Almost 80% top one million websites in alexa are using WordPress as their website building platform
WordPress is free, themes and plugins are free. You can install your WordPress Website without spending a dime.
WordPress can be used in any fields such as CMS, Shopping, people, health, beauty, and even University just described above.
WordPress is very easy to install and manage. It is totally beginner friendly. Whenever you are a professional webmaster or a new webmaster who wants to earn some money online, you can use WordPress. Its interface/control panel is very easy to understand. If you know how to use Microsoft Word, you are OK to post your pages or posts.
Your website is compatible for Mobile browser and tablet browsers. You just need chose the right themes or plugins and all will be done
Software Automatic update, WordPress software can update itself or you can update it by a single link clicking. All plugins and themes can be updated automatically or just a click of button.
Huge Community of Support, many developers of WordPress community and themes and plugins community can be found in their websites, and a lot of webmasters can help you in WordPress forums. You can also get support from our powerhoster WordPress forums.
How to Find a Cheap Domain Register
The next step of building your website is to register a good domain name in cheap domain register. Cheap domain register is the domain register than can provide you .com domain name less than ten dollars per year. The biggest domain register is godaddy but their domain price is $11.99, another cheap domain register is domain.com which .com domain registration fee is $9.99/yr, the third cheap domain register is namecheap whose .com domain registration fee is $10.99/yr. Other domain name register cannot provide you domain name regstration fee less than $10. Powerhoster domain name registration service can provide you .com domain name registration at $8.99/yr. We are affiliate company of godaddy and all our support group are from the same management group. You can get the same quality support and the same quality domain name management control panel platform. For more information, please check our Cheap Domain Name Registration instruction. We provide you a lot of free features.

How to find an Affordable WordPress Hosting Provider
If you are starting a Personnel WordPress blog and you're shopping for a hosting service, my advice would be to get a shared cPanel hosting plan which is not only inexpensive but is also perfect for a new WordPress blog. But If you are starting a business WordPress website or run a CMS Website for a long run, I suggest you chose a managed WordPress Hosting Plan. For more explanation, please check WordPress Hosting Plan to chose from
What kind of Domain Name Should I chose ?
This is a very important for your business or your blog. You can change your web hosting providers and you can transfer your domain away to another domain register but you can not change a well-known domain name especially after several year management and promotion. So never think of a temp domain name. If you're making a website for your business, your domain name should match your company name, or your business categories. Normally I suggest you register two domain names, one for your business name, another one is for business category name which is easy to be searched. Just make an alias of your business name to your business category name.
Also you should remember your website name is easily to be searched. You can go to your google keyword planner to find which is the best searched keywords in your business category. For google keyword planner usage, you can search it in google. What I suggest is to register a long descriptive keyword domain name if you want visitors from google and a short descriptive domain name if your visitors from your offline advertising. Domain names usually end with .com, .org or .net, but in recent months, a huge amount of domain extensions (the end part of the web address, like .com) have come out.