An affiliate is the partner of a merchant or commercial purpose website through an affiliate program. Affiliate programs, also called associate programs, are arrangements in which an online merchant Web site pays affiliate Web sites a commission to send them traffic. These affiliate Web sites post links to the merchant site and are paid according to a particular agreement. This agreement is usually based on the number of people the affiliate sends to the merchant's site, or the number of people they send who buy something or perform some other action. Some arrangements pay according to the number of people who visit the page containing their merchant site's banner advertisement.
Affiliate promotes the merchant's products or services on their websites by the means of visual elements or various promotion tools (widgets, search engine…) which are provided by the merchant. Affiliates are paid by the merchant when referrals become customers or do a sought action (newsletter subscription, webform,..).
Basically, if a link on an affiliate site brings the merchant site traffic or money, the merchant site pays the affiliate site according to their agreement. Recruiting affiliates is an excellent way to sell products online, but it can also be a cheap and effective marketing strategy; it's a good way to get the word out about your site.
The main affiliate programs count about several ten thousands of affiliates.
HOW TO SIGN UP FOR AN AFFILIATE PROGRAM
Although Amazon Associates is the largest of the affiliate marketers and certainly worthy of your consideration, there are hundreds of smaller programs available. When you are just starting out, use only established, well-reviewed companies, such as:
eBay Partner Network
Avangate
AvantLink
ShareSale
CJ Affiliate by Conversant (formerly Commission Junction)
Rakuten (formerly Buy.com)
Clickbank
Look for a company that offers links for products or services that have something in common with your website. When you find one and express interest, you'll be asked to provide some information; you may be asked to open an account, and you'll definitely be asked for the URL of your website.
This is where having an attractive website with good content pays off. If your site looks amateurish or thin, you'll probably be rejected. If that happens, clean up your site, add more and better content and try again with another marketing company.
Each affiliate marketing company and each advertiser has its own rules, so they can't all be covered here, but take the time to read everything before you make a selection. You can sign up with more than one affiliate marketing company, but don't litter your website with too many of them.
Affliliate Linking Methods
An affiliate can link to a merchant site in a number of ways. The best link choice depends on the nature of the affiliate and the nature of the merchant. Each kind of link is specially suited for particular purposes. Common types of links include:
Text links: If you've read How Web Pages Works, then you already know how to make a basic text link. The blue writing in the previous sentence is an example of one. If you click on the text 'How a Web Page Works,' your browser will bring up the Web page containing the introduction to the HowStuffWorks article explaining Web pages. The advantage of text links in an affiliate program is they are ingrained in the content of your site and so don't look so much like advertisements. For a lot of affiliate sites, this is the most natural way to link to the merchant site.
Banner links: These links appear as boxes, usually containing words and some sort of graphic element. They may be the best choice when you think a text link doesn't do enough to attract visitors.
Search box: This type of link allows visitors to search an online database on another site. The results of the search are links to other pages on the site.
HOW AFFILIATE PROGRAMS PAY
Most affiliate programs have specific rules about how they pay, but there are two methods you can expect to see:
Pay per click is similar to most online advertising. You are paid whenever someone clicks on the link, button or image you place on your site. They don't need to buy anything or take any action. Pay per click is usually low paying.
Pay per action pays you every time someone clicks on a link from your site and then completes a specific action. You might be paid a percentage of a sale or you might be paid every time someone moves deeper into the target site. This method, especially when you get a percentage of sales, can be lucrative.
Pay-per-lead (cost-per-lead): Companies with these programs pay their affiliates based on the number of visitors they refer who sign up as leads. This simply means the visitor fills out some requested information at the merchant site, which the merchant site may use as a sales lead or sell to another company as a sales lead.
Pay-per-sale (also called cost-per-sale): Amazon.com's affiliate program is an example of a pay-per-sale arrangement. In this arrangement, the merchant site pays an affiliate when the affiliate sends them a customer who purchases something. Some merchant Web sites, like Amazon.com, pay the affiliate a percentage of the sale and others pay a fixed amount per sale.
The reason affiliate programs work so well is that you're not relying on a computer to match up ads to your content. You do it yourself. You know best which ads will work best on your content and which products and services you can recommend or mention. Most affiliate programs don't pay out until you reach a specified threshold, and even then, the payout is slow. Be patient.
There are a couple of very popular variations on these basic payment plans:

Two-tier programs:These affiliate programs have a structure similar to multilevel marketingorganizations (also known as "network marketing") such as Amway or Avon, which profit through commission sales and sales recruitment. In addition to receiving commissions based on sales, clicks or leads stemming from their own site, affiliates in these programs also receive a commission based on the activity of affiliate sites they refer to the merchant site.
Residual Programs: Affiliates in these programs can keep making money off a visitor they send to the site if the visitor continues to purchase goods or services from the merchant site. Many online merchants who receive regular payments from their customers (such as monthly service fees) run this sort of affiliate program.
HOW TO MAKE MONEY WITH AFFILIATE MARKETING
Making money with affiliate marketing is all about traffic. The more eyes that see your website, the more likely the affiliate links on your site will be clicked. The best way to encourage traffic to your website or blog is to fill it with high-quality content and to refresh that content often. Then promote your website. How you do that is up to you, but here are a few suggestions to get you started.
Share your content (with its link) to Facebook or other social media sites every time you post something new.
Gather an email list and add to it constantly. Then use it to promote your website or blog by sending a newsletter or a teaser to draw readers to your site.
Add a link to your site in your email signature.
ADVICE FOR THE BEGINNER
It's a lot of work for merchant Web sites to actively recruit affiliates, and for affiliates to search for affiliate programs they are interested in. Nonetheless, many companies, such as Amazon.com, deal with their affiliates directly because the administration is well worth their time. Even though they take full control over the process, and so determine themselves what they owe, these companies can attract a lot of affiliates because their offer has no real risk or cost: All an affiliate webmaster has to do is put the link up and hope the checks come rolling in. For a lot of Web sites, however, all the work of recruiting affiliates or merchant Web sites is just too time consuming. And a lot of webmasters would rather not rely on the merchant site to tally their own bill correctly!
Don't quit your day job. Although it is true that a few individuals make thousands of dollars a month using affiliate programs on their website, the vast majority of people who try this make very little. Keep your expectations low and work hard posting high-quality content and promoting your site. It is almost waste of job if you want to promote cookie based affiliate program, you need check some very good distributor program to begin your earn money online websites.
We recommend Co-branding Affiliate Program: In some affiliate programs, affiliates can maintain their Web site identity even after a customer links to the merchant Web site. The merchant Web site will handle all the sales, and will usually host the page, but will configure the page so that it appears as though it's still part of the affiliate Web site (by including the affiliate Web site's logo, for example). Unless the user examines the URL displayed by his browser, he probably won't even know he has linked to another site.
Find a Sustainable Earn Money Affiliate Program
There are lot of earning money chance there in internet. Most of them work as affiliate program but they only use cookie technologies.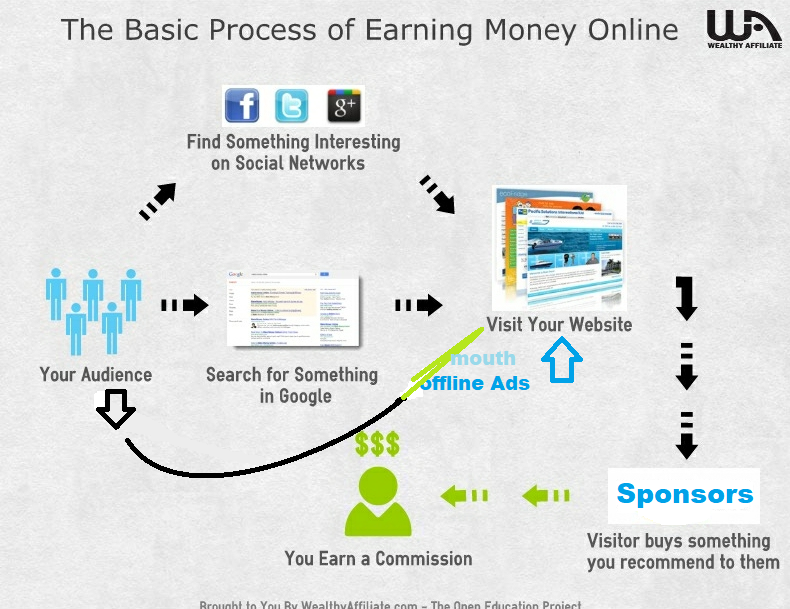 The sponsors will absorb your customers as theirs if you use cookie affiliate programs. If you are running a big website and update frequently, and your visitors are from any class, and your products are coupon, discount, Black Friday, Cyber Monday promotion, you can use a cookie program such as amazons, cj, linkshare. But you are running a professional website, we do not suggest you run a cookie affiliate website.  We have some standard to chose better wholesaler or distributor program. What is the best earning money program ?
Global Trend – You should chose a morning industry such as anti-aging products and more and more people will like it
Trust-able Company – You want to run a long term business so you must find a trust-able company
The Sponsor's Products are Rock – You can sell it in a large amount and a lot of returned customers
The Sponsor Pay Their Distributors in time – A well known company and good company will not owe their distributor any money
You Can Run it As a Business not Just a Hobby – You can live on it even when you are retired.
You Can Give it to Your Next Generations – The chance is there, and the freedom is there,  the Flexibility is there,  Stable company and Exclusive product. it all depends on your ability to promote the anti-aging products. You can do it.
The Sponsors Give Their Distributors/Wholesalers Unique URL – It is easy to promote the sponsor URL using your own unique URL.
The Sponsor Paid Trips – The sponsors will pay your trip and sometime health insurance as their employee
The Sponsor Will Pay you Commission for your Down-line's customers – They can pay even more.
I think you can find this kind of distributor/Wholesaler chance, if you cannot, please contact us and I will recommend one for you. You can also go to How to become a Nu Skin Distributor without a sponsor ID to learn more information.