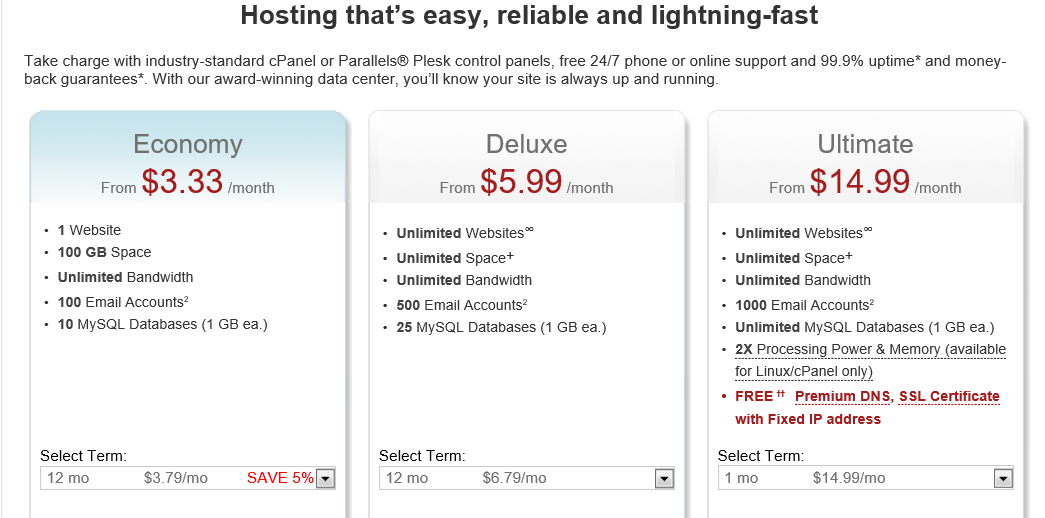 Our virtual Cpanel Web Hosting plan can meet all your needs. We have Standard Web Hosting plan which can host unlimited web space and unlimited bandwidth at only $3.33/m. Unlimited website and Unlimited web space, Unlimited Bandwidth only Needs $6.99 per month.
All Linux web hosting Plans Include:
World-class data centers and Word-Class support Teams

Best-of-Breed routers, firewalls and servers

FREE

email addresses
99.9% uptime guarantee
One-click install of free applications
Unlimited Monthly Bandwidth
Flexible, easy to use control panel (cPanel )
MySQL linux databases
NO hidden fees
24/7 security monitoring and DDoS protection
All Web hosting accounts are placed in our cloud servers.

The Cpanel Linux control panel includes:
CONTROL PANEL

cPanel
Softaculous
RVSiteBuilder
File Manager
FTP Manager
Website Statistics
Custom Error Pages
EMAIL FEATURES
SMTP/POP3 Accounts
IMAP Support
WebMail Access
Auto responders
Mail Forwarding
SpamAssassin
Alias
Addon Domains
Directory Privacy
Disk Usage
Redirect
Simple and Advanced Zone Editor
Subdomains
Metrics and Analysis
Cron Jobs
TRack DNS
Apache Handlers

DATABASE & MULTIMEDIA SUPPORT

MySQL 5.1.x
Host Unlimited DBs
phpMyAdmin Access
Windows Media Compatible
Flash / Shockwave
Real Audio/Video Compatible

PROGRAMMING SUPPORT

PHP 5.3.x
Perl 5.8.8, Ruby on Rails
Python, SSI, CGI, Fast CGI
Curl, CPAN
Zend Optimizer
GD Library, ImageMagick
Ruby on Rails

SECURITY FEATURES

Daily Backups (7 Days Retention)
Password Protected Directories
Hotlink Protection
IP Deny Manager
Shared SSL
Private SSL (Optional)
IP Blocker
Powerful hosting made easy
With its user-friendly control panels featuring cPanel®, our Hosting puts you in charge. And thanks to our award-winning data centers, lightning-fast load times and 24/7 monitoring, you know your site will always be safe, secure and online – guaranteed*.
Award-winning security keeps your site safe
Keeping a website secure is a full time job. That's why our security team is on the job 24/7, monitoring your site for suspicious activity and protecting it against brute force and DDoS attacks.
What is Web Hosting?
Make sure friends, family and customers can see your website.
Hosting is what makes it possible for others to view your website over the Internet. Without it, you're the only one who will ever get a look. POWERHOSTER.COM serves up…
One-click set-up
Unlimited storage and bandwidth
Scalability to fit your needs
24/7 secure monitoring
We use industry-standard control panels giving you the flexibility to choose the platform that works best for your needs. Choose from cPanel for Linux or Parallels Plesk for Windows. If you plan on using a Web application to blog, podcast, or create a shopping cart and you are working with a designer or developer to build your site, check to see what operating system the application needs (Linux or Windows) or what software language will be used, before purchasing your hosting account.
cPanel for Linux
Each Linux plan includes:
cPanel: Access all the hosting features and settings you need with this industry-standard control panel.
CloudLinux: Keep your site online with truly balanced CPU, RAM and Disk IO limits.
CageFS: Protect your Web content 24/7 with this virtualized file system.
Free Applications: Instantly install over 150 applications on your website with just a few clicks.
Choose Linux if you're going to use PHP, Perl or CGI scripting. Our Linux accounts use a MySQL database.

What is Linux Web Hosting ?
Although estimates vary, Linux – the most common type of Unix – is generally accepted to have an overwhelming majority over Windows servers. It's no fluke: Google uses more than 15,000 Linux servers to serve up its content.
Why is Linux so popular when it comes to web hosting?
Linux is an open source operating system. It can be installed for any purpose free of charge.
The same is true for three key pieces of software needed to serve a website:
Apache, Linux's leading Web server application
MySQL, the most prominent database application
PHP, the most popular scripting language
Large hosts want to push Linux because there are no licensing costs to cover, so they can drop prices and aim for bigger profits. The only thing that needs to be paid for is the control panel tool, if the host chooses to offer one.
The cost angle also applies to hardware. Linux is arguably the best operating system for slower machines. Hosts can use older servers with Linux and get more use out of ageing equipment.
Why is cPanel So Popular?
cPanel is a Linux-based web hosting control panel that provides a graphical interface and automation tools designed to simplify the process of hosting a web site. cPanel utilizes a 3 tier structure that provides capabilities for administrators, resellers, and end-user website owners to control the various aspects of website and server administration through a standard web browser.
In addition to the GUI, cPanel also has command line and API-based access that allows third party software vendors, web hosting organizations, and developers to automate standard system administration processes.
The cPanel control panel was originally developed for a web hosting company hat offered Linux hosting. It allowed hosting customers to manage elementary parts of their hosting service, such as their FTP logins and email addresses. The software has evolved over 15 years and outlived a spinoff product, WebPanel, thanks to its friendly user interface and simple navigation.
There are a few big bonuses for hosts that deploy cPanel:
They can distribute generic help documentation and don't need to develop as much help in-house
Customers can transfer their knowledge when moving from host to host
cPanel stops web hosting customers from doing anything risky or prohibited
WHM and cPanel work beautifully together, so the host can use the combination of both on server based hosting accounts, giving users a consistent experience
WHM and cPanel are secure if properly managed
Hosting customers like cPanel because:
It's super easy to navigate
The experience is the same on almost every host
Technical tasks have a very simple graphical interface
Built in help stops you from doing anything you shouldn't do
You spend more time on your website, and less on the admin behind it
It can do all kinds of things you wouldn't expect
cPanel can also be used as a platform for bolt-ons. The most common is Fantastico, a script library that offers hundreds of applications for one-click install. Fantastico takes all the hassle out of setting up and deploying applications like WordPress, phpbb, Joomla and OScommerce.
Linux web hosting with cpanel