Though Google translators still need to be upgraded when it comes to accuracy and reliability, but if you add one into your website you'll get the chance of being capable to deliver your content in a lot of different languages. Especially, when you make use of your WordPress website as a web based shop selling services or products to an International market, being capable to easily and quickly translate your vital content can aid you to inflate your reach. At present Google Translate is supporting approximately 80 languages from all around the globe and have become the world's most famous online machine translation services. It is now become easy to integrate Google Translate into any of the self-hosted WordPress website or blog with the help of some useful plugins.
Why Give Multilingual Support on Your Blog or Website?
Now, the internet has reached to the entire planet. This is the reason why it is said to be as the "www (world wide web)". Visitors from all around the world could be watching or reading your content right now. Sadly, you will miss a chance to keep these users engaged if they cannot understand your material. An eCommerce website that delivers globally is a perfect example of requiring multilingual support. Rather than concentrating on a single community for sales, engaging visitors from other nations will reach out business practices. Consequently, the website has the prospective to boost sales based on the location.
Even a website owner hosting his own site could enjoy providing extra languages. Since a number of blog owners depend on affiliate marketing and ad revenues platforms for income, engaging a wider range of visitors equals a higher chance to make money.
How you can embed Google Translate into your WordPress Website
There are so many different plugins to add translator button into any WordPress site and we will have look at them later. Initially we are going to tell you the method of adding translator button by using Google Language Translator which is the most famous tool among the rest of the others.
Step 1: set up and configure the plugin
Initially, all you need to do is set up and configure the plugin from your WordPress control panel. As soon as you have activated the plugin, you can simply configure it by visiting to Settings menu and then Google Language Translator. The settings are demented properly, so you will not require too much assistance to set up the things. However there are some important points that you will certainly need to pick up.
First of all, you will need to go to the main settings where you need to pick the original language of your blog or site from the given drop down list. For instance, if you create your content in English language then you have to choose English. Now go to the Layout Settings where you need to select whether to show flag images or not, and if you choose to enable it, which particular flag image you want to show. You can choose your preferred language from the given drop down list. This will only influence the fast link flags that are shown above the language drop-down list.
For instance, you may choose flags for:
Vietnamese
Swedish
Spanish
English
You can see the preview of how that looks. When you scroll down the settings page, you can add additional layout settings, whether to activate Google Analytics tracking or not, and the transcript on the optional-floating-widget. At the end, you will notice a Usage section which provides you a PHP function and shortcode to show your Google Translate tool.
Away from these choices, the plugin also provides you a keen widget that can be employed in any widgetized region on your website. Do not forget to click on Save Changes button, and after that you will move ahead to showing the Google Translate tool.
Show Google Translate Tool Site – spacious With a Widget
If you would like to add Google Translate tool on all the pages of your site or blog, the simplest method to do the same is to employ the in-built widget. Certainly, you could also make use of the incorporated PHP function. For using this widget, you simply need to go to the Appearance menu and then go to Widgets and drag this over the brand new Google-Language-Translator widget. Further than giving it a name, you don't need to configure anything else. When you see your front-end website, you will see that the translate option is displaying in your sidebar.
Show Google Translate Tool in separate pages/posts
If you would simply want to show the Google Translate option for particular pages or posts, you are possibly making use of the shortcode. Remember that you should not use the widget and shortcode at the same time because it will not properly work. You will require choosing one of them. The shortcode works better when you make use of the standard WordPress Editor. If you really would like to employ shortcode in your standard WordPress Editor, then you need to place the code above your content to enable your visitors to swiftly find the translate option. Simply paste the copied shortcode.
What Does It appear When Someone Employs The Translate Tool?
If anyone make use of the translate drop down, then the overall text on your website will translate right away and the Google-Translate toolbar will come up. Though, the url of your page won't be changed.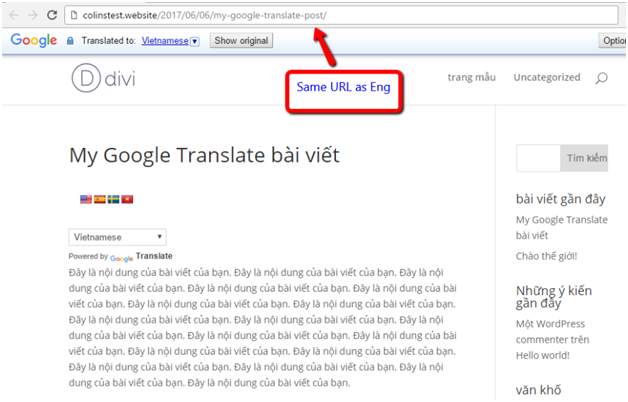 List of the best Translation Plugins for WordPress
Numerous works is going on for generating high-quality content, so does it really make any sense for that material to arrive at the widest range of audience? Since, English is said to be the widely spoken language in the world. The studies about internet usage even make for a more exciting read. A recent study has found that, regardless of just 25.9% of web users are doing conversation in English, over half of the material on the web is created in English language. Clearly a language gap exists – and this generates a chance for multilingual and savvy webmasters.
To get a global customer base, you will require publishing multilingual content. For example, if you translate your material into Spanish, you can hope to see a swift increase in engagement, conversions, and visits from Spanish speakers.
The ideal method to translate a WP-powered site into numerous languages is to set up a multilingual plugin – and, luckily there are loads of great plugins available there. Now, let's have a look at some of the very popular tools.
Global Translator
This plugin translates your content automatically in around 48 different languages! The number of translations will mainly based on the language of your blog and your chosen translation engine.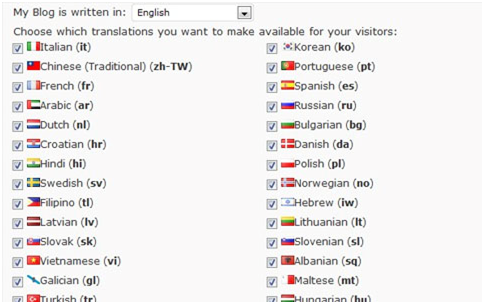 Simple Punctual Translation
Simple Punctual Translation is a plugin for WordPress that allow translating any post type in other languages. The user features can be reviewed in the capability to change among numerous languages plus on the single-view of content. Therefore, a page can easily be translated into so many languages.
Transposh
This plugin gives an exceptional method to translate blog content. It enables your blogs to mix human translation with automatic translation assisted by your users with an extremely user-friendly in-context interface. Well, users can simply locate the flag of their country in the sidebar and click on it, and it will automatically translate the content to their language!
WP Translate
This plugin enables users to rapidly translate your content, with the help of a widget available in your blog. You can choose the Widget title, which will be shown on top of the language-translation form. Users just need to choose their preferred language and it'll then translate the page automatically, which means that even a foreign reader can see your content.
SDAC Translate
This is a user friendly pplugin. Well, the admin is permitted to use Google Translate option in the option menu for translating your websites content in several languages with the use of an easy sidebar widget which is completely customizable. This plugin is very light weight, plus it doesn't steadily decelerate the performance of your websites.
Google Website Translator
When seeking a simple and fast translation, the majority of people will choose Google Translate tool. The translations are really great for auto-translation service for free, and there are over 100 different languages accessible. This plugin is easy to use. You just need to set up and configure the plugin, mention the native language of your website, and then select which languages you would like to provide. The insightful admin-panel makes the process an easy thing.
Then you put the keen widget in your sidebar. Also, you can embed it in your blog posts with the use of shortcode. Users can select their preferred language from a given drop-down list, or instantly launch a language just by clicking on a related flag.
Babble
Babble is another great plugin which is driven by Automattic. This is considered as one of the best plugins to translate pages and it is similar WordPress and is totally open source. Also, it is one of the quickest multilingual plugins. As per the developers, it has optimized speed, which results in 20 percent faster load times along with 40 percent less queries. For installing this plugin, you just need to download Babble and then follow the guidelines to set up.
This plugin enables you to translate the content into numerous languages – just go to the WordPress back end's translations section, and then click on the presented page, post, or custom post type you'd like to translate. Then this plugin will show 2 editions of the WordPress visual editor, alongside – one providing the original content, and another providing a blank canvas wherein you can simply write your translations.
MultilingualPress (FREE)
This plugin is dissimilar from the other plugins available in the market. It employs WordPress Multisite, thus you can connect separate editions of your site that have been designed in various languages – for instance, yourdomain.es, yourdomain.de, and yourdomain.co.uk.
You can set up limitless websites – you just need to mention the default-language for each. Then visitors can simply steer to their favorite language with the use of a keen widget, or by links connected to every post. MultilingualPress allows you to edit all editions of a blog post from single screen. Being competent enough to halt any previously translated work – or by not having to change among websites – this accelerates and abridge the translation process.
Another big benefit of making use of this plugin is that there is no impound effect. This plugin simply connects to the translated and separate edition of your site, which make them consistent in this way. Even when the plugins are disabled, those split editions will exist yet, like they did before the installation of plugin. Also, a free plugin is accessible there for those seeking to transfer to MultilingualPress from WPML.
qTranslate-X
For so many years, this plugin was one of the famous multilingual plugins available on the WordPress repository. After a while, updates become increasingly irregular, before the plugin was neglected ultimately for good reasons and eliminated from the repository in the year of 2015. qTranslate-X is quite similar to as the phoenix which is growing from the particles of qTranslate. It is also very famous. Actually, a lot of functionalities and features have been included, that the original qTranslate is hardly recognizable.
This plugin also works like a Polylang. After setting it up, choose your default language as well as other languages that you wish to give on your site, and produce a different 2-letter code for every supported language. However, to assist you, qTranslate-X comes preconfigured along with the language codes and flags for nearly 25 of the popularly spoken languages. Then the language code is attached to the url, and describes which language the post is written in. also, this has the positive SEO implications – by having every translation on a distinctive URL, the search engine can file your content numerous times.
When users visit the page, they automatically receive their chosen language, as detected by the default settings of their browser. In case users would like to change the language, they can easily do the same with the use of a dedicated language-chooser widget of the plugin.
Also, you can change the WordPress language simply by choosing your favorite language from the toolbar. This can be easily navigated and found, which implies that you will not get stuck in a language that you don't understand or speak.
This plugin is self-translate only. when you use the visual editor of the wordpress, you will notice the flags of active languages, and then you can simply click on them for changing among text editors for every language without the need to reloading the screen. This implies that you can simply write content in numerous languages all together.
Also, you can make any available text areas multilingual with the use of this plugin. For instance, if you wish to show all your posts in English, excluding vital elements like buy now buttons, then which you would like to localize. Well, in this case, you can give the translation in a range of languages, and this plugin will cater the needed translation to your users – it's a wonderful feature that can perk up your engagement, conversions, and navigation. Also, there are various 3rd party plugins offering integration among qTranslate-X and a few of the WP world's famous plugins.
Google AJAX Translation
This plugin permits your viewers to translate your comments, pages, or posts in around 52 languages. You can simply add the Translate button on the top or bottom of your comments, pages, or posts. When you click on the button, you will see a popup window which will show you a complete list of accessible languages. The user will just click on their preferred language, and then you are on the go.
ConveyThis Blog Translator
This is a free translation button which allows visitors to translate your site into more than 50 languages. This plugin is powered by Google Translate and mixes all its translation abilities into an easy to use and small button. When installed, this button will display at the bottom of all your posts.
Conclusion
On the whole, you can be capable enough to run any of the mentioned translation plugin in your WordPress website within few minutes. The only disadvantage is that you cannot make changes in your translations manually, and also Google won't be capable to file the translated editions of your website. Most of the plugins specified in this post are easy to install, use and free to download. This will also keep risks away and also will persuade more WordPress viewers to flex their linguistic muscles. However, which plugin you should select for your site mainly depends on your requirement and your intention to use it.