If you ship products to customers outside of the United States, you must enable International Shipping for your Quick Shopping Cart® storefront. However, to ensure that your international orders are shipped and processed successfully, it is important to make sure all settings are correct, including those for the product, shipping carrier, payment method, and tax.
Note: We currently support shipping merchandise to locations within the United States and U.S. territories, including Alaska, Hawaii, Puerto Rico, Guam, and the US Virgin Islands. Additionally, Quick Shopping Cart supports shipping to many international locations.
Enabling International Shipping
For the international shipping options to display in your site settings, you must enable it in your Storefront Preferences.
To Enable International Shipping
Log in to your Quick Shopping Cart account.
From the Set Up menu, in the Business Information section, click Store Preferences.
From the Checkout – Shipping Rules tab, go to International Shipping section, and then select the countries outside the U.S. to which you ship. Click a country in the Available area and click >> to move it into the Selected area. Hold ctrl when clicking (command on a Mac) to select multiple countries.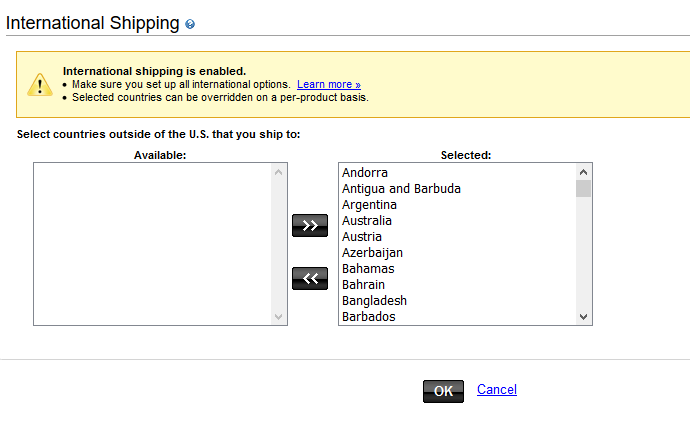 Click OK
Setting Your Shipping Carrier for International Shipping
If you offer international shipping, you can enable either flat rate, FedEx, UPS, or custom shipping as your shipping option.
To Set Your Shipping Carrier for International Shipping
Log in to your Account Manager.
Click Quick Shopping Cart.
In the Quick Shopping Cart Account list, click Manage next to the Quick Shopping Cart account you want to use.
From the Set Up menu, in the Operations section, select Shipping.
Click Set Up next to the shipping option you want to configure.
If necessary, review the instructions for the shipping options your are configuring:

Setting Up Flat Rate Shipping Options
Enabling FedEx Shipping Options in Quick Shopping Cart
Enabling U.S. Postal Service shipping
Enabling UPS shipping
Setting Custom Options for Weight-Based Shipping
Setting Custom Options for Price-Based Shipping