Cheap .auto Domain Name Registration – $8.99
Search for your .auto domain name
.auto Domain Name Only $8.99
What is a 
.auto

 domain?

XYZ is the sponsor and Uniregistry is the backend provider for the .auto extension. The .AUTO domain tells internet users who you are and what you do.  The term auto is renowned worldwide and the most universally recognized word for cars and automobiles across many continents and languages. The .AUTO domain is being enthusiastically adopted by manufacturers, mechanics, dealerships and enthusiasts. .AUTO domains are attention-grabbing, giving your brand an instant affiliation with the automobile industry.  .AUTO domains are attention-grabbing, adding a serious boost to your personal and professional brand.

Online auto sales continue to rise each year as more consumers sell their cars online via Web classifieds, and car dealerships offer more advanced Internet car-buying options, eliminating stress for buyers and facilitating the car-buying process. .AUTO provides an industry-specific TLD for the auto industry, further simplifying the commercial process for customers by creating a credible and identifiable namespace. .AUTO can be used by individual sellers, dealers, or reviewers alike.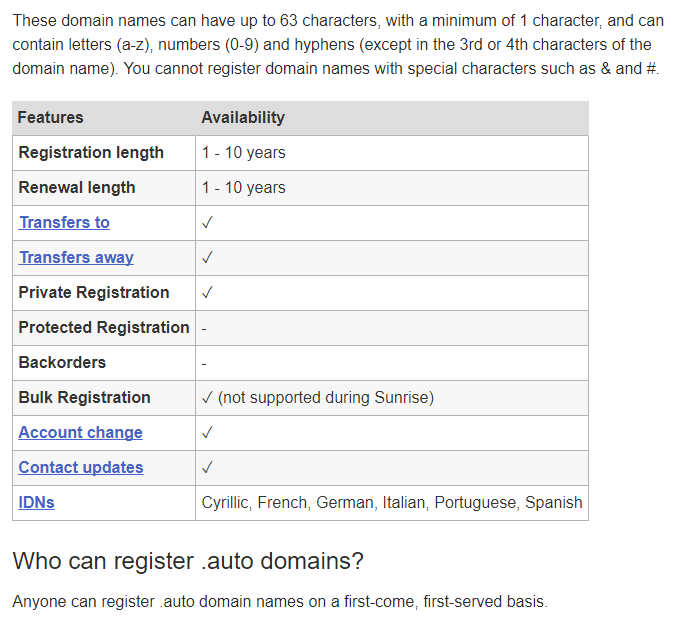 Why choose a 
.AUTO

 domain extension?
Auto manufacturers and dealerships can define their product and expertise with a .AUTO domain. Insurance companies and financing groups can use .AUTO to create a section on their website specific to vehicles. Auto bloggers can create a memorable web presence by forwarding a .AUTO domain to their main website or social media channels.
Looking for an easier way to sell your car online? Try a .AUTO domain extension. .AUTO makes it possible to have a marketing device built into your domain name by offering a recognizable and targeted TLD option for the auto industry, from big name dealers to individual sellers. .AUTO isn't just for selling cars, though ; it can be used for anything from repair forums to auto part e-storefronts.
A .AUTO domain name is short, professional and memorable, helping you improve your search engine rank with keywords directly in the URL. It's no doubt that car owners and buyers seeking information, products, or services to get them back on the road are more likely to click on a link that has the .AUTO keyword in the domain name and as we know every click on organic search results means dollars saved in paid marketing – and that's a big win!
The future of the internet is new and precise domain names that give customers a taste of your brand before they even visit your website. Establish yourself as an industry leader, enhance your online marketing, and differentiate your brand from the competition with .AUTO domain, the namespace that communicates freedom of transportation, wonder of advanced engineering, and ease of operation!
If you are stupid enough, and you want to do auto business, you can register cheap .auto domain name here in powerhoster.
Related Terms