Chose A Window Virtual Dedicated Server

Pro Features in your Window Virtual Private Servers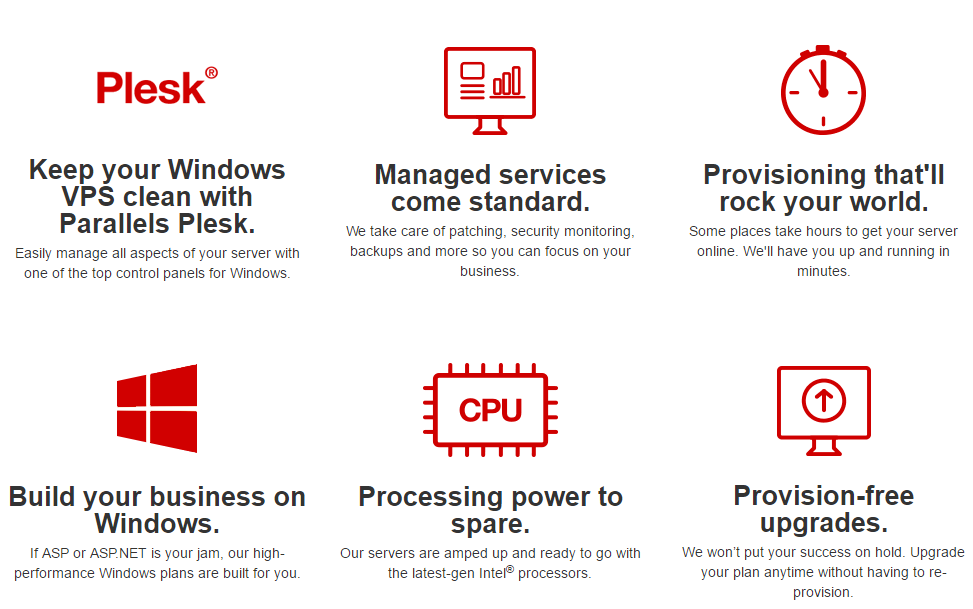 Levels of Management

Self-Managed*

Managed*

OS Distributions

CentOS 6, CentOS 7, Fedora, Ubuntu, Windows 2008, Windows 2012

CentOS 6, Windows 2008, Windows 2012

CentOS 6, Windows 2008, Windows 2012

Control Panel

—

 yes
 yes
 yes
 yes
 yes

1-Click Application Installs

—

 yes
 yes

Auto Updates & Patching


—

 yes
 yes

Migration

—

Discounted

 yes

Security

DDoS

 yes
 yes

SiteLock

—

Unlimited number for websites.
Includes CDN/WAF.

Unlimited number for websites.
Includes CDN/WAF.

Monitoring

Basic

Intermediate

Advanced

Backups and Restores

—

 yes
 yes

IP Address

1

3

3

Support

Standard

Standard

Dedicated Team with Unlimited
Server Admin Services
Self Managed:
You don't need anyone's help — you've got this covered. When standing up new environments, you'd rather control your updates, if you make any at all. Our Self-Managed plans give you the freedom to flex your tech skills.
Managed
You just need simple backups and patching, updates you don't have to think about and the power of cPanel. We include it all at no additional cost, giving you the tools to handle everything else.
Fully Managed
You don't have the time to be a SysAdmin. Our dedicated Advanced Hosting Support team can do that job for you, so you can focus on your clients.
When should I move to Windows VPS hosting?
A VPS allows you to host sites (storefront, e-commerce, content, media) and software applications (primarily web: portal, extranet, collaborative solutions, wiki, CRM) with ease. Unlike shared hosting, Windows VPS hosting allows multiple applications to be isolated from one another within the same container. While this VPS container shares physical resources (infrastructure) with other containers, its resources are dedicated to you.
If you're outgrowing your web hosting or simply want more control, a Windows VPS (Virtual Private Server) is the next logical choice for your hosting needs. It gives you more freedom with root access, plus you can install an SSL certificate, as well as any type of software – all without the responsibility of a physical dedicated server. On a shared server, you rely on the performance of the platform provided. By choosing Windows VPS, you get to select a configuration best suited for your applications, requirements and growth.